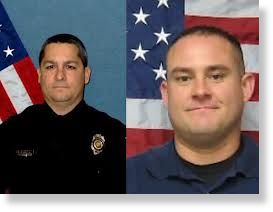 A shooting outside a Kansas grocery store left two police officers dead last night.
They were shot while responding to a report of a suspicious vehicle near a Topeka grocery store.
Officers tracked the suspected gunman down to this nearby home early this morning.
They say they tried to make contact with the suspect several times before finally deploying gas.
They say the suspect then came out with a gun in hand.
He was shot by officers and pronounced dead at a hospital.
Now, a store employee is reacting. "It was kind of shocking."
"We're a good store and nice people and nice employees, but this could happen anywhere."
Police have not identified the suspect.
But they have named the two officers killed, 50 year old Corporal David Gogian and 29 year old Officer Jeff Atherly.
Source: KTKA