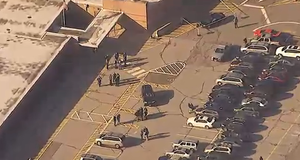 A horrific shooting at a Connecticut elementary school Friday has left as many as 27 people dead, including 18 children, the Associated Press reports.
CBS News says 26 people have died. Other news outlets put the death toll at 20.
If those numbers are confirmed, it would mark one of the worst mass school shootings in U.S. history, behind the Virginia Tech university massacre in 2007, which left 32 dead.
Police in the town of Newtown, Conn, a quiet town about an hour's drive north of New York City, were alerted to the shooting at Sandy Hook Elementary School around 9:40 a.m. ET. They contacted Connecticut State Police and surrounding police departments. A SWAT team was among the throngs of police to respond and enter the building.
"Our main objective was to evacuate all students and faculty from the school," Connecticut State Police Lt. Paul Vance told reporters in a rushed briefing.
"There were several fatalities at the scene, both students and staff," he said, adding that it was not yet releasing the death toll until all family members had been notified. "The shooter is deceased inside the building."
He promised further updates later in the day, adding: "Suffice to say, the scene is secure."
CBS News reports that the gunman was in his 20s and was the father of a student at the school.
The principal and school psychologist were among the dead, CNN said.
It's not clear whether the gunman killed himself or whether he was shot by police. There are also reports
a second man was taken into custody
.
Students from Kindergarten through Grade 4 attend the school. Photos from the scene showed crying and frightened students being escorted by adults through the school parking lot.
One young student from Sandy Hook Elementary told CNN that he heard "lots of banging" before a police officer busted into his classroom.
"We heard screaming ... so we went to the wall and sat down and then a police came in and was like, 'Is he in here?' and he ran out. Then someone yelled 'get to a safe place' so we went to a closet in the gym and sat there for a while."
Another eight-year-old student at the school told WCBS-TV's he was on the way to the school's office when he saw bullets. "I saw some of the bullets going down the hall that I was right next to and then a teacher pulled me into her classroom."
Stephen Delgiadice, whose eight-year-old daughter attends the school, says she heard two big bangs and teachers told her to get in a corner. She was later evacuated from the school unharmed.
"
It's alarming, especially in Newtown, Connecticut, which we always thought was the safest place in America
," he told AP.
Richard Wilford said his seven-year-old son, Richie, heard a noise that "sounded like what he described as cans falling." The boy told him a teacher went out to check on the noise, came back in, locked the door and had the kids huddle up in the corner until police arrived.
"There's no words," Wilford said. "It's sheer terror, a sense of imminent danger, to get to your child and be there to protect him."
Other parents said they found chaos when they arrived on the scene.
"It was horrendous," parent Brenda Lebinski, whose daughter is in Grade 3, told Reuters.
"Everyone was in hysterics: parents, students. There were kids coming out of the school bloodied. I don't know if they were shot, but they were bloodied."
The Associated Press reports that New Jersey state police are now searching a location in that state in connection with the shooting.