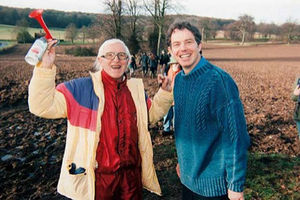 Police are investigating claims against 25 celebrities of alleged sex offences in connection with the Jimmy Savile inquiry.
At least six of the high-profile figures are expected to be arrested this month and in the new year.
The 25, reportedly mostly television and radio entertainers, are named in a list of tip-offs to Operation
Yewtree
- the police inquiry set up after late
Top Of The Pops
presenter Savile was exposed as a serial abuser.
A source with knowledge of the inquiry told the
Sunday Times
: 'They all end to be white men of the Savile generation'.
In some cases victims will not be identified or press charges. But in at least a dozen cases, police are reported to believe there is enough evidence for the celebrities to be detained.
The source added: 'We are halfway through'.
There are three strands to the
Yewtree
operation - two involving Savile, and a third termed 'others'.
The first strand, involving Savile, relates to allegations against Savile himself and the second, another category of sex offence where Savile committed the alleged crimes with other people.
The third strand relates to a separate individual unconnected to Savile.
Five arrests have so far been made under the strand termed 'others', which means they were not questioned about anything connected to Savile.
PR guru Max Clifford was the fifth suspect to be arrested - and sixth person to be questioned - last week.
His arrest followed the questioning of one man in his 80s and from Berkshire, who was interviewed under caution on suspicion of sexual offences.
DJ Dave Lee Travis, 67, was the fourth man to be arrested and was subsequently bailed in November.
Former BBC producer Wilfred De'ath, 75, pop star and convicted paedophile Gary Glitter, 68, and comedian Freddie Starr, 69, also remain on bail following their arrests. All deny any wrongdoing.
Scotland Yard is leading the inquiry and has said officers are currently dealing with around 450 potential victims, the vast majority of whom claim they fell prey to Savile.
The 25 celebrities aforementioned are understood to have been named in phone calls to the police or to charities.
One insider told the
Sunday Times
: 'In some cases the same names came up six times. In other cases they just came up once'.