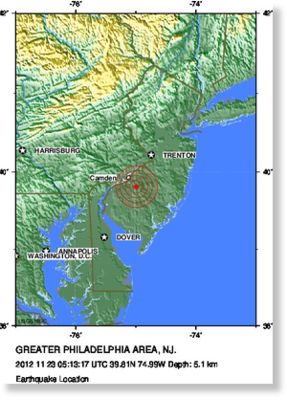 No reports of injuries from 2.1 magnitude quake centered in Clementon.
New Jersey - A loud boom that shock homes in Camden County very early Friday was actually an earthquake.
The U.S. Geological Survey reports
that the 2.1 magnitude quake hit near Clementon, N.J. at 12:13 a.m.
The epicenter was near W. Atlantic Avenue and Oak Lane -- a short distance from Clementon Park, according to the USGS.
The whole floor just started shaking really hard, said MaryLou Gicker of nearby Sicklerville.
Residents reported to NBC10 feeling the quake in nearby Pine Hill, Erial and Lindenwold --
some calling and e-mailing the station to say they believe something may have exploded.
"We went outside in the backyard we were looking in the sky to see if there were any fires," said Sicklerville's Bill Chalef.
"We were listening for sirens going off to see if there was an accident or explosion."
There was no explosion though, just the movement of the earth.
There were no reports of injuries or damage from the 3.2-mile deep quake.
.