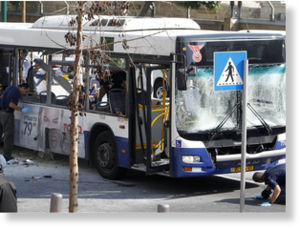 A bomb attack on a bus in Tel Aviv has
threatened to derail attempts to broker a peace deal
between Israel and Hamas in Gaza.
Israeli rescue services said that at least 10 people were injured in the attack outside the military headquarters. Ofir Gendelman, a spokesman for the Israeli PM Benjamin Netanyahu, said: "A bomb exploded on a bus in central Tel Aviv. This was a terrorist attack. Most of the injured suffered only mild injuries."
The bombing comes as Hillary Clinton held meetings with Netanyahu and the Palestinian Authority president, Mahmoud Abbas, in an effort to bring an end to the bloody conflict after arriving in the region on Tuesday.
An expected ceasefire failed to materialise on Tuesday night, despite predictions by Hamas officials and the Egyptian president, Mohamed Morsi, who has been acting as a mediator between the two sides, that a truce was imminent.
Israel stepped up its bombardment of Gaza from air and sea overnight with munitions slamming into Gaza at a rate of one every 10 minutes at one point. The Israel Defence Forces (IDF) said they had hit 100 targets in Gaza since midnight and intercepted 12 out of 29 missiles launched towards Israel from Gaza.
Clinton's talks with Netanyahu in Jerusalem lasted late into Tuesday night. She returned on Wednesday for further talks with Israeli leaders after travelling to the West Bank to meet Abbas. She is due to travel on to Cairo to meet Morsi and UN secretary-general Ban Ki-moon later.
Reports in the Israeli press said the
failure to reach agreement on Tuesday was due to a disagreement in the Israeli cabinet between defence minister Ehud Barak, who was in favour of a truce, on one side and Netanyahu and the Israeli foreign minister, Avigdor Lieberman, on the other.
They were reportedly unwilling to accept the ceasefire on the proposed terms.
However, the prospects of an Israeli ground invasion seemed to have diminished after Lieberman appeared to rule out such an operation before the January election, telling Ynet: "We should leave this decision for the next government."
Among the buildings struck in Gaza overnight were Hamas's civil administration building and a house belonging to Essam al-Daalees, a senior adviser of Gaza prime minister Ismail Haniyeh. An Israeli warplane first fired a warning missile before scoring a direct hit on the building, in the Nusseirat refugee camp in the central Gaza Strip, flattening the property.
Medics reported that one passerby was wounded. Al-Jazeera said its office suffered damage from the airstrike on the Hamas compound. A reporter said the windows were blown out but no one was injured. It was the latest in a number of media facilities to be hit. On Tuesday the building housing the AFP offices in Gaza was hit in an Israeli air strike. Israel's military said it had been targeting a Hamas intelligence centre in the tower.
Also on Tuesday, three al-Aqsa journalists were killed by strikes that hit their cars. Reporters Without Borders has condemned attacks on news organisations as "war crimes". In Israel, a direct hit from a Palestinian rocket set a house on fire in Be'er Tuvia, the IDF said.
The death toll in Gaza since the start of operation 'Pillar of Defence' rose on Tuesday to 138, including 34 children,
according to Palestinian medical officials. Two Israelis were killed on Tuesday, a soldier and a civilian contractor. Their deaths brought the total number of Israelis killed by Gazan rocket fire since the start of the operation to five.