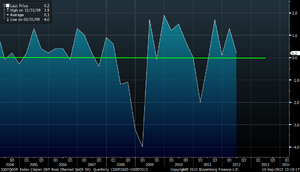 Japan's economy contracted in the latest quarter, signaling that like Europe it may already be in recession, further weighing down world growth.
On an annualized basis, the world's No. 3 economy shrank 3.5 percent in the July-September quarter, in line with gloomy forecasts after Japan's territorial dispute with China hammered exports that were already weakened by feeble global demand.
The bad news will temper optimism over recoveries in China and the U.S., where some economists are predicting growth will top 3 percent in the third quarter. China's painful slowdown likely bottomed out in the third quarter, with recent indicators such as factory production and auto and retail sales showing improvement.
Japan's outlook remains bleak, with most economists forecasting a further decline in economic activity for the October-December quarter, which would officially put it in a recession according to the common definition of two consecutive quarters of contraction.
Consumer spending fell 0.5 percent in the third quarter, as subsidies for auto purchases expired, and corporate capital spending fell 3.2 percent. Spending on reconstruction from the country's March 2011 disasters has also weakened.
The drop for the current October-December quarter may not be as severe as that experienced in July-September.
''If the economy does recover in any way it will be a minute rebound,'' said David Rea, an economist in London with Capital Economics. He said the contraction in gross domestic product in the last quarter of 2012 could be a couple of percentage points.
More than two decades after Japan's asset bubble burst in the early 1990s, its policymakers have yet to devise an effective strategy to help the economy break out of its deflationary funk. Meanwhile, the Japanese yen remains stubbornly high, discouraging its companies from investing at home and undermining its export competitiveness, especially against rivals Germany and South Korea.
Strangled by weak consumer spending and public investment, the economy grew at an anemic 0.7 percent annual pace in April-June, according to figures that were revised down by half from the originally reported 1.4 percent.
Until recently, the government was still forecasting growth at about 2 percent for the year. It had predicted a turnaround late in the year, but the renewed tensions with China over disputed islands in the East China Sea, coupled with sluggish growth in Europe and other key export markets, have doused hopes for a significant rebound before 2013.
A slew of dismal recent data releases offers little encouragement.
Squeezed by surging costs for imported fuel and sinking exports, Japan's current account surplus plunged to 2.72 trillion yen ($34 billion) in April-September, its lowest level since monthly data began in 1985, as the trade deficit surged.
Although Japan will likely continue to run current account surpluses for some time to come, its decline is a stark reminder of the country's persisting reliance on exports to support its energy-intensive standard of living through massive imports of food, fuel and other resources.
Adding to the squeeze on pocketbooks from hikes in electricity rates, winter bonuses for employees are falling by an average of 4 percent this year.
Machinery orders for September fell twice as fast as expected. Meanwhile, the job market softened, likely hurting prospects for stronger consumer spending to help offset weak exports. Slower-than-anticipated government spending on reconstruction has further undermined demand.
Japan's local governments are running short of funds as lawmakers dicker over legislation needed to authorize bonds to pay for deficit financing.
Though the government and opposition parties look likely to reach a compromise on financing that would avert Japan's own version of a ''fiscal cliff,'' the standoff has done little to inspire confidence in the potential for a strong rebound, says Klaus Baader, a regional economist with Societe Generale Cross Asset Research in Hong Kong.
Signs of a recovery in China's growth rate offer the tantalizing hope of stronger demand for Japan's exports - if only territorial tensions are kept in check.
Tokyo's first policy priority should be to defuse the antagonisms with Beijing that sparked sometimes violent protests in September, and are fueling a backlash against Japan and Japanese products, especially cars, Baader said.
''I don't think this can be done overnight and I don't think Chinese consumers are going to suddenly rediscover their love of Japanese products,'' he said. But eventually, ''whether it's three or six months, people will forget. And Japanese products are of course highly desirable.''
The Japanese yen has remained excruciatingly strong, for its exporters at least, due to the country's status as a safe haven for investment.
Rather than a gradual depreciation that might erode investor confidence, Baader says that what is needed is a sudden intervention that would take the yen to between 85 yen-95 yen per dollar, or perhaps even higher, from its current 79 yen to 80 yen per dollar.
In the longer run, wider reaching, more painful reforms will be required to regain sustainable growth, said Rea of Capital Economics.
Despite their generally meager, often declining profitability, Japan's megabanks, trading houses and other big corporations are sitting on huge cash piles. Instead of investing at home and hiring Japanese workers, they are using those resources to snap up assets around the world, such as Softbank's recent acquisition of Nextel.
Keeping interest rates near zero for many years has done little to change that.
'''They've done as much as they can. Monetary conditions are about as easy as they can get. No one wants to borrow. No one wants to invest, because there is no positive outlook for growth,'' Rea said.
More crucially for world finances, Japan must finally grapple with its national debt, now at an unsustainable level of some 235 percent of the country's GDP.
Dealing with that problem requires spending cuts and even bigger tax hikes than a planned increase in the national sales tax to 10 percent which is due to take effect in 2014.
For now, Japan's economy is cushioned by massive investments in its own debt, which protect it from any sudden major shifts by foreign investors, and by its massive earnings on foreign investments by its own financial institutions and corporations.
Bereft of domestic engines for stronger demand, the government has acknowledged it needs more free trade deals to gain maximum access to markets for its exports. It needs to revitalize industries and boost use of renewable energy. To use its labor force - especially its fast-growing senior population and women - more effectively.
Despite more than two decades of stagnation, so far there has been little progress toward such reforms. Frequent changes in leadership - six prime ministers in just six years - have further undermined momentum for change.
''People talk about things but they don't do anything,'' said Kenneth S. Courtis, an investment banker and former Goldman Sachs vice chairman. ''The political system is going in one direction and the economy is going in another direction.''