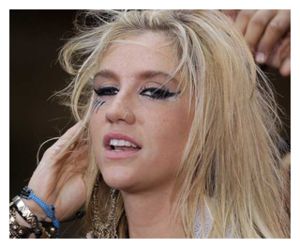 Artists and musicians are always seeking inspiration for their work, and in a recent radio interview with Ryan Seacrest, pop star Kesha talked about the inspiration for her new song "Supernatural." While many singers like Taylor Swift and Adele produce heartfelt songs about love and loss, Kesha's was a little
different.
"There are so many weird topics on this record from having sexy time with a ghost to getting hypnotized and going into past lives. I just really wanted the theme of this record to be the magic of life," she
told Seacrest.
Yes, "having sexy time" means what you think it means: Her song is about the time she had sex with a ghost. "I had a couple of experiences with the supernatural. I don't know his name! He was a ghost! I'm very open to it....I was in Africa rehabilitating baby lions.
I went diving with great white sharks, and just went on this crazy spirit quest. I got hypnotized, and I just really wanted this record to be really positive, really raw, really vulnerable and about the magic of life."
While this may seem like a bizarre (or publicity-savvy) revelation, Kesha is not alone; in fact many people have reported similar sexual experiences with spirits... and psychologists may have an explanation.
Succubi, Incubi, and Psychology
This phenomenon is not new, and is the basis for medieval legends about male and female demons (incubus and succubus respectively), who sexually attack people at night in their sleep. In centuries past, a woman claiming to have had sexual relations with an unseen spirit would likely have been accused of witchcraft. Indeed, the notorious 1486 witch-hunting text "Malleus Maleficarum" contains a section titled, "Here follows the Way whereby Witches copulate with these Devils known as Incubi," in which the authors explain that sex with the unknown is inherently evil and a clear sign of congress with Satan.
In his book
The Terror that Comes in the Night,
folklorist David J. Hufford estimates that about 15 percent of people experience being assaulted in their sleep by an unknown entity at some point in their lives.
These attacks -- sometimes scary, sometimes sexy, but always realistic to the person experiencing them -- are the result of normal brain misperceptions and illusions. Last year a British grandmother complained of being
sexually assaulted by a ghost
while in bed. She felt "a creepy pair of hands" groping her as she tried to sleep, though no one else was around.
Kesha did not elaborate on the circumstances behind her exciting encounter with the anonymous phantom paramour, but it's likely she experienced it in bed either while sleeping, or going into or out of sleep. Psychologists know that this is a time when people are vulnerable to common (and harmless) hallucinations -- including sexual experiences.
There may also be a clue in Kesha's comment about being hynotized; people who are under hypnosis tend to be in a very suggestible state (criteria for hypnotizability include being imaginative and open to suggestion).
If she had the experience during a personal, spiritual quest for the supernatural, her mind and imagination would be primed to interpret any unusual experiences as magical. An especially vivid or arousing sexual dream could easily have been interpreted as having been a real encounter with a ghost.
Of course, it's possible that Kesha really did have sex with a ghost -- and though he didn't leave his name, he left her with fodder for free publicity -- and maybe even a hit single.