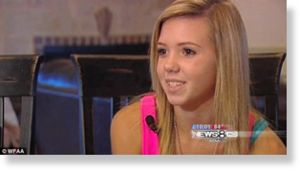 A Texas schoolgirl is nursing a bruised and 'blistered' behind after she was spanked by her male vice principal.
Springtown High School sophomore Taylor Santos was walloped by the teacher after allegedly letting another student copy her work.
But her mother, Anna Jorgensen, has complained to the school, furious that they allowed her daughter to be brutally paddled by a man.
Taylor was given two days in-school suspension for cheating, though she claims she didn't know the student copied her assignment, according to
WFAA
.
After day one Taylor, a top student, opted to get a paddling rather than miss a second day's classes, but the decision left her in searing pain.
Texas is one of 19 states that still allow corporal punishment, however, according to Springtown High School's policy, the teacher administering the blows has to be the same sex as the student.
'I knew school policy was females swatted females, and males swatted males,' Jorgensen said. 'If Taylor wanted that, I said I would be fine.'
But she said she 'came unglued' when she saw the welts on her daughter's bottom and found out that a man was responsible.
She said the brute force of the spanking left her daughter's bottom fire-engine red and covered in bruises.
'It looked almost like it had been burned and blistered, it was so bad,' said Jorgensen, who took photographs of the damage as evidence.
'It was bright red. I still have welts on me today,' Taylor added, 48 hours after the paddling.
The day after her daughter's spanking, Jorgensen called the vice principal to complain but he defended his actions.
'He told me this was normal for her bottom to look like this after receiving swats, and that he was not aware of the school policy that females swat females,' she said. 'He used too much force.'
Swatting students in public schools has been outlawed by 31 states.
Efforts to ban it in Wyoming, North Carolina, Louisiana and Texas failed but last year laws were introduced in both Texas and North Carolina that gave parents the right to exempt their students from paddling.
Rather than reprimanding the vice principal, WFAA reported that Springtown ISD Superintendent Mike Kelley was going to ask the school board to abolish the same-gender policy, claiming that adhering to it can be difficult on some campuses because of the ratio of male to female teachers.
Jorgensen is outraged, and says she'll be attending the board meeting to vehemently vote 'no'.
'I think Taylor is proof that we need to keep that policy,' she said. 'Men are too big and strong to be hitting 96-pound girls.'