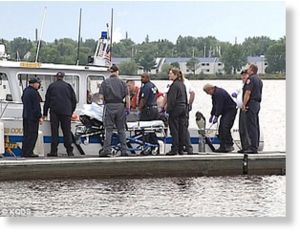 A lightning strike on a Lake Superior beach killed a nine-year-old Wisconsin boy and injured seven others, Minnesota authorities said Sunday.
All eight were on a sailboat that took refuge from a rapidly approaching thunderstorm on the end of Minnesota Point, near the Superior Entry to the Duluth-Superior harbor, about 5:30 p.m. on Saturday, the St. Louis County Sheriff's Office said in a news release.
Lighting struck before they could get off the boat, but one person was able to call 911.
Law enforcement and rescue agencies rushed to the site, which was about two miles from the nearest road to Duluth, by boat and ATV.
A boy identified as nine-year-old Luke Voigt from Iron River, Wisconsin, was flown to a hospital in Duluth, where he was pronounced dead.
Four others were taken to Duluth hospitals with what authorities described as severe but not life-threatening injuries.
The sheriff's office said the others aboard the boat included Paul Voigt, 46, Laurie Voigt, 45, and an unnamed seven-year-old boy, all from Iron River, Wisconsin; John Lintula, 52, and Vicky Lintula, 50, who are both from Wisconsin but their hometowns weren't listed; and Frank Voigt, 79, and Mary Voigt, 78, both of Pierz, Minn.
The release did not say which of the seven were seriously injured or how the group was related.
Duluth fire officials said on Saturday that everyone had some injuries and the group included parents and their two boys, grandparents and a couple who were friends of the family.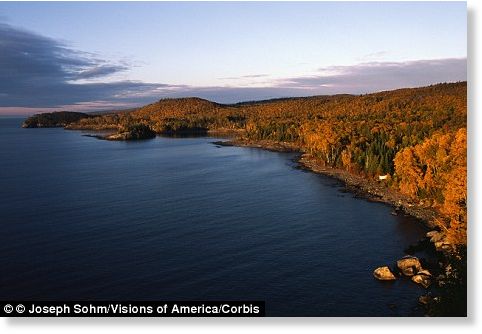 The sheriff's office also said Luke's 7-year-old brother, Daniel Voigt, was on shore during the lightning strike and was not injured.
Assistant Fire Chief Jarry Keppers told the
Duluth News Tribune
the nine-year-old boy was found face-down in the water by his brother, who turned him over.
He said the other passengers on the 26-foot sailboat started CPR, which was continued by rescue workers who got a pulse back.
Because of the difficulty in getting to the site, Keppers, said, about 25 minutes elapsed before the first firefighters arrived by boat. Other responders followed by boat, ATV and on foot.
'It's one of the more remote areas of the city,' Keppers said.
Except for Luke Voigt, all were taken by boat to Sky Harbor Airport or the Duluth Coast Guard Station, both of which are on Minnesota Point, a sand spit also known as Park Point that juts about 7 miles into Lake Superior from downtown Duluth. From there, they were driven in ambulances to hospitals, Keppers said.
At 5:33pm Saturday, around the time of the reported lightning strike, the National Weather Service in Duluth issued a severe thunderstorm warning for parts of Douglas County.