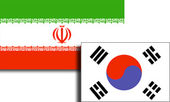 South Korean officials said that the country will resume oil imports from Iran later this month after consultations between Korean oil refiners and Tehran over using Iranian oil tankers yield result.
Yonhap News Agency quoted a government source as saying that South Korea is considering accepting Iran's proposal to supply oil to Seoul using its own oil tankers.
Iran has proposed that South Korean oil refiners use Tehran's own oil tankers, a move that would allow them to receive crude shipments without concerns over insurance guarantees, the source said on the condition of anonymity.
"Korean oil refiners and the Iranian side have been in consultations over the matter of using Iranian-flagged oil tankers to resume oil shipments," the source said.
Using Iranian-flagged ships to import Iranian oil "is not internationally prohibited," the source said.
If consultations go well, South Korean oil refiners could resume oil imports from late this month or early next month, the source said.
South Korea had announced on Tuesday that imports of Iranian crude oil would be halted from July 1 due to an EU ban on insurance cover for tankers carrying Iranian crude.
Although Japan, one of the major importers of Iranian oil along with South Korea, passed a law to offer government guarantees on insurance for Iranian crude shipments, Seoul has not been considering such a measure, officials said.
South Korea secured a waiver from new US financial sanctions against Iran on June 12.
After Seoul cautioned that it would halt imports from Iran on July 1, Tehran warned South Korea of a possible embargo on its products in case it complies with the sanctions.
Last week, Iranian Ambassador to South Korea Ahmad Masumifar warned that Tehran could halt all imports of goods from South Korea in response to Seoul's suspension of Iranian oil imports.
Tehran "may decide to fully stop importing Korean goods," the ambassador said.
Later, Iranian Oil Minister Rostam Qassemi warned Seoul, and said, "Iran is a major importer of South Korean goods and if that country completely cuts its oil imports from Iran, it [economically] will suffer the most."