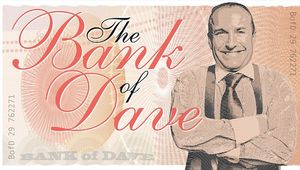 How one man, struck by the plight of firms unable to get loans in his home town, came up with a unique solution
It is, if you like, a story of Dave and Goliath - one man's attempt to take on the giant high-street banks he says are helping destroy towns such as Burnley in Lancashire. And, so far, Dave Fishwick is winning.
Dave is a self-made millionaire, the owner of a company that manufactures and sells minibuses, so it is fair to say he has no problems getting credit on his own behalf. But when banks started refusing to lend money to his customers, Dave knew he had a problem, too. Local firms could no longer buy his vehicles.
'The lending dried up almost overnight,' he says. 'It was killing their businesses and damaging mine.'
So he took the most practical approach possible - and decided to go into the credit business himself.
The Bank of Dave was born. Today, hundreds of businessmen and women hold accounts at his modest town-centre shop, marking a return to the sort of old-fashioned, face-to-face banking that the big operators have mostly chosen to leave behind.
'The banks were turning down committed people who needed investment,' he says. 'They were destroying this town. You mention Burnley down South and people just think of the riots in 2001.
'That's nonsense. Burnley's going through a tough time, like most of the country. But there's a lot of decent, hard-working people in this town and they're the people I wanted to help.'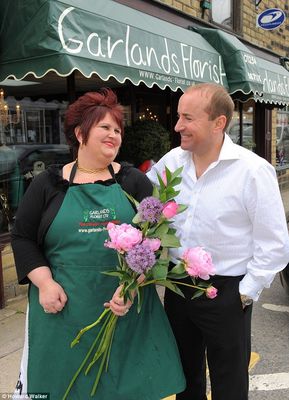 Rachel McClure was among them. She needed £7,500 to revamp the front of her flower shop, Garlands Florist, last year. The business was in profit and she had a good credit record, so expected that a loan would be a formality.
The clincher, surely, was that Rachel's bank manager had spent a day working at the shop to see more of local business. The bank had issued a press release trumpeting its 'caring' initiative and printed pictures of the smiling manager holding a bouquet of flowers.
She was astonished, then, when her application was refused. Dave stepped in, got to know Rachel and her business and lent her the money. The new shop front is now finished, business has improved and Rachel has never missed a repayment.
Meanwhile, her old 'caring' bank has told her that any future loan inquiries should be directed to its head office . . . in Glasgow.
Dave is an energetic, straight-talking 41-year-old. Born into a poor but hardworking Burnley family, he left school at 16, making his first million in his 20s. He is passionate about his home town - and determined to prove that it is possible for a bank to be fair and still turn a profit.
When he lends money, he charges 8.9 per cent to borrowers with a good credit record and investors make five per cent on their savings. They are not the cheapest loan deals on the market but, unlike the big banks, Dave is at least lending, the rates allow him to give savers a good return and his profits go to charity.
At the Bank of Dave, which opened in September, only one borrower has defaulted so far. Savings are pouring in and there is a waiting list for investors. The bank is taking in about £25,000 a week and giving out about the same in loans. The £10,000 accrued in the first six months has been divided equally between five local charities.
Dave gets to know all his customers and gives them advice, just like bank managers used to do. 'Banking is not rocket science,' he says.
'The banks have been ripping people off for years. They used to have a responsibility to serve their clients. Now they just serve themselves. It's like a private club.
'They gambled away billions of pounds of our money and we bailed them out with billions more. And they still pay themselves obscene bonuses and refuse to lend money to businesses fighting for their lives. It's disgusting. When the banks lend, they turn £10 into £20 without doing anything. But if it goes wrong, they are bailed out by the taxpayer and the rest of us have to take the hit. How is that right?'
The Bank of England base rate - the interest rate that the Bank of England charges banks - has been 0.5 per cent since March 2009 yet small businesses can pay more than 25 per cent for loans, even more for unsecured ones and an eye-watering 3,000 per cent for 'pay-day' loans.
Meanwhile, savers, who always suffer when the base rate is low, are receiving as little as 0.05 per cent interest, with an estimated £100 billion sitting in accounts paying nothing at all.
Dave resolved never to lend money his bank didn't have and to guarantee every penny of his customers' deposits personally. He believed he could achieve his goal with 'hard graft and a bucketful of common sense'.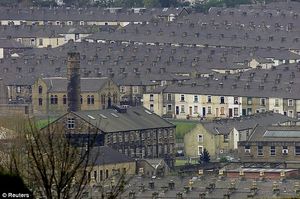 He is not trying to compete with the big banks on large-scale finance but he does believe that there is a need for genuine community banks.
Burnley has some fine Victorian buildings and a few pockets of prosperity. But the atmosphere on the streets and in the cafes is gloomy. Many of its high-street outlets, including TJ Hughes, Miss Selfridge and HMV, have closed in recent years, and in March a proposed £40 million development was scrapped because of a lack of interest from retailers.
In the nearby village of Sabden, Keith and Christine Turner, an experienced caterer, run a cafe called Sanwitches, a name that nods at the ancient tales of sorcery on nearby Pendle Hill. They started the business after Keith was made redundant from his job in local government. At first it was a struggle. The couple needed more space and equipment. They asked their bank for a loan but were turned down. They went to the Bank of Dave and were lent £8,500.
But as well as the money, they were given advice on marketing and advertising
their high-quality food. Dave took them out to local business parks where he encouraged them to offer office lunches and conference meals.
And when a large construction project began nearby, he suggested the couple take tea and bacon sandwiches to the builders to encourage them into the cafe. It worked.
'We couldn't have done it without the loan and Dave's advice,' says Keith. 'It's opened our eyes to what can be done. When the bank turned us down we didn't know whether we would be able to carry on with the business.'
Although customers call the business the Bank of Dave, and although it offers banking services, Dave is not allowed to call it a bank. This is because he is still waiting for a bank licence, which can take years to obtain. Without it, he cannot use the word 'deposits' and can talk only about 'achieving five per cent on savings'.
'The bankers who gambled away billions of pounds of our money have got off scot-free, and yet I can be taken to court if I call my business a bank or use the word deposits,
' he says, exasperated.
Obtaining a bank licence is a numbingly complicated, time-consuming and expensive process. Only one has been granted in the UK in the past 100 years, to Metro Bank in 2010, which was backed by an American bank with more than $50 million of assets.
The legal restriction explains the slightly eccentric sign above his premises that says 'Bank on Dave!', a slogan rather than a name. The business's official name is on the window: Burnley Savings and Loans. So is a slogan referring to the banks of yesteryear: 'Captain Mainwaring old-fashioned values.' (Mainwaring, from
Dad's Army
, was a notably cautious bank manager in the fictional town of Walmington-on-Sea.)
'Our customers couldn't care less what we are called,' says Dave. 'They know they are getting a fair deal. Our computer doesn't say no.'
A two-part series, Bank Of Dave, starts on Channel 4 on Thursday July 12 at 9pm. Dave Fishwick's book,
Bank Of Dave,
is available from Virgin Books at £12.99.