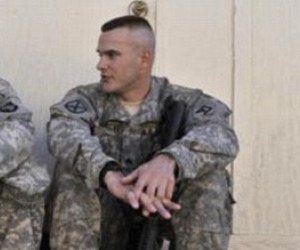 In Savin Hill, Massachusetts, Sgt. Joel Morgan has sued property owner Janice Roberts, who reportedly refused to rent an apartment to him because he is a national guardsman who has served in Iraq, Afghanistan and Guantanamo Bay.
Roberts told Sgt. Morgan in an April 9 voicemail that renting to him would be a conflict, saying, "We are very adamant about our beliefs," reports the
Boston Herald
.
"It just is not going to be comfortable for us without a doubt. It probably would be better for you to look for a place that is a little bit less politically active and controversial," Roberts told Dgt. Morgan, according to his lawsuit.
Sgt. Morgan said: "For her to do that to me, it was like a spit in the face. For what we have gone through overseas, to come home to our country and have people ... discriminate against us. ... It made me extremely insecure about being a soldier."
Morgan filed suit last week in Suffolk Superior Court, accusing Roberts of violating a state law that prohibits landlords from refusing to rent to veterans.
Robert's written response to the lawsuit claims that Sgt. Morgan never returned a completed rental application, which he admits after hearing her voicemail.
Roberts, who has belonged to a civil-rights group called Garden of Enlightenment since 2000, also said: "This bodes the question, 'Why would someone like Joel Morgan, who apparently fought so valiently (sic) in wars in which he believed, want to even choose to subject himself to renting an apartment from people, like myself, who were so vigorously seeking an end to the Iraq War?'
"There was never any mention to Morgan that his being a veteran would impede his chances to rent from us.
If anything, he was a victim of U.S. greed, and for that, I feel much empathy."