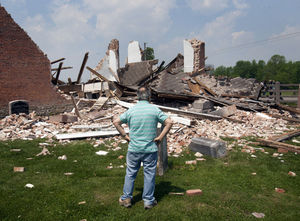 Two tornadoes ripped through communities near Montreal Friday night, smashing-in roofs, shattering windows and uprooting trees that lay in their paths.
No one appears to have been injured after the twisters struck within minutes of each other in largely rural communities which lay about 35 kilometres apart.
"Someone at the wrong place at the wrong time could have been seriously injured, but fortunately that wasn't the case," said Environment Canada meteorologist Rene Heroux, who spent Saturday touring the areas where the tornadoes touched down.
The weather agency said a low-scale F-0 tornado first struck the rural community of Brownsburg Chatham around 8 p.m. Friday, with winds reaching 120 kilometres per hour.
A second stronger F-1 twister then touched down in the community of Saint Benoit de Mirabel just 15 minutes later, with gusts of 150 kilometres per hour.
"For both events the damage was over a rural area," said Heroux. "The damage was mostly roofs that were damaged, farming equipment, farming sheds, some windows broken, trees uprooted."
Environment Canada uses the Fujita scale to rate the severity of tornadoes as a measure of the damage they cause. The scale runs from F-0 to F5.
F-0 is considered a "light" twister, while F-1 is defined as a "moderate" tornado, according to the agency.
Up to seven homes felt the brunt of the twister in Saint Benoit, said Heroux, while approximately 10 farming areas were hit hard in Brownsburg Chatham.
Some buildings were damaged worse than others.
A number of barns and sheds in Brownsburg Chatham had walls ripped away by the tornado and metal from some farming equipment was wrenched from its place and hurled a distance away.
In Saint Benoit, the historic Grand Fresniere Presbyterian Church was flattened by the twister.
"This one was totally destroyed," Heroux said of the small brick church.
Mirabel Mayor Hubert Meilleur estimated the damage from Friday's severe weather would amount to millions of dollars and said he might ask the province for help if the area is designated a disaster zone.
Numerous power outages were reported as power lines were felled to the ground. Hydro Quebec crews were working to restore power to homes Friday night through Saturday.
The two tornadoes were Quebec's first of the season.
The province typically sees six twisters a year, usually between June and August, ranging between F-0 and F-1 on the Fujita scale.