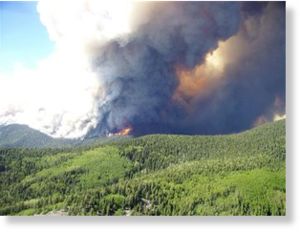 Santa Fe, New Mexico - A wildfire burned out of control for a fourth day in the steep mountains of southwestern New Mexico on Saturday, one of several blazes that have consumed more than 200 square miles (520 square km) of rugged land in six U.S. states.
Efforts to contain the blazes spreading in sparsely populated areas of Arizona, Colorado, Michigan, Nevada, New Mexico and Utah have been hurt by gusting winds and tinder-dry late-spring conditions.
Several small towns, including the historic Wild West mining town of Mogollon - now nearly a ghost town - were ordered to evacuate, as the spreading fire torched miles forest, brush and grass.
New Mexico's Whitewater-Baldy Complex fire, which was started by lightning 10 days ago, had raged across 82,252 acres as of Friday and officials said the area could now be much larger than that.
"We know that there was significant growth yesterday, but we don't have a hard and fast number," said Fire Information Officer Dan Ware.
More than 580 firefighters and support crew have been fighting the blaze.
"This is the biggest show in the country right now in terms of fire size. So a lot of resources are available to us. We're just not sure we'll be able to do a lot of flying," Ware said.
He said access to the fire had been the chief difficulty as it was burning in very steep, rugged terrain where firefighters were not able to cut through the brush and timber.
"Fire activity was so extreme yesterday we had to pull crews out," he said. "We're expecting another day like that today. With such high wind levels and low humidity there's going to be big potential for some major growth."
Smoke Over Denver
Smoke from the New Mexico fire wafted north into the Denver metropolitan area on Saturday, as firefighters battled a separate wildfire burning on the Utah-Colorado border.
That 2,800-acre fire was burning in a remote area near Paradox, Colorado, U.S. Forest Service spokesman Steve Segin said.
He said there were only a few isolated ranches in the area and no structures had been lost so far, although the wind-driven blaze was "very active." He said the cause was under investigation.
Most of western Colorado has been put under a "red flag" warning for wildfires due to hot temperatures, low humidity and high winds, according to the National Weather Service.
More than 1,000 miles (km) to the east, a wildfire in Michigan's Upper Peninsula had grown slightly to cover an area of more than 21,000 acres by Saturday, stretching in a narrow band 11 miles long from about 14 miles north of the village of Newberry to Lake Superior, the state's Department of Natural Resources said.
Dry conditions posed problems at the northeastern end of the blaze, where firefighters have concentrated efforts dropping water from air tankers, Dean Wilson, a spokesman for the state DNR's western fire management team, said on Saturday evening.
The DNR said access to what has been dubbed the "Duck Lake Fire" was difficult and it was only 20 percent contained on Saturday morning. It said a number of structures had been damaged or destroyed.
Wilson said good progress had been made in tackling the south end of the fire and firefighters were establishing defensive lines on the east and west sides.
There have been no further evacuations and the defensive lines around the Pike Lake area where there is a resort and Little Lake Harbor held on Saturday, Wilson said.
In Utah, officials said a wildfire burning on the west side of Promontory Point, the tip of a peninsula that juts into the Great Salt Lake, had grown to 4,200 acres, but was 50 percent contained.
The fire, touched off by lightning on Thursday, was burning uphill in the Promontory Mountains, on public and private land, the officials said. No structures have been lost, they said.
Additional reporting by Jennifer Dobner in Salt Lake City, Keith Coffman in Denver, Dan Whitcomb in Los Angeles and David Bailey in Minneapolis; Editing by Jackie Frank and David Brunnstrom