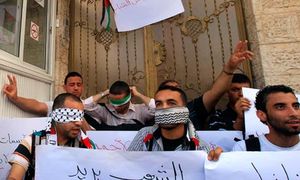 Tony Blair urges action and Palestinian president Mahmoud Abbas fears potential 'disaster that no one could control'
Demonstrations in the West Bank and Gaza in support of about 2,000 Palestinian prisoners on hunger strike are escalating amid efforts by Egyptian mediators to broker a deal to avoid protests spiralling out of control if a detainee dies.
Two prisoners, who have refused food for 77 days, are thought to be close to death with another six in a critical condition
, say Palestinian groups. The Israeli prison service (IPS) says no one's life is at risk.
In an unusual intervention, Tony Blair, the representative of the Middle East quartet, urged Israel to "take all necessary measures to prevent a tragic outcome that could have serious implications for stability and security conditions on the ground". He said he was "increasingly concerned about the deteriorating health conditions" of hunger strikers.
Earlier, Mahmoud Abbas, the Palestinian president, said the situation was "very dangerous". He told Reuters: "If anyone dies ... it would be a disaster and no one could control the situation." Abbas has appealed to Hillary Clinton, the US secretary of state, to intervene.
Jamal Zahalka, a member of the Israeli parliament, told a solidarity rally in Jaffa: "If one of the striking prisoners dies, a third intifada [uprising] will break out."
According to
Physicians for Human Rights
,
there is no previous recorded case of anyone surviving without food or supplements for more than 75 days. IRA hunger strike Bobby Sands died after 66 days in 1981.
Israeli security forces have responded to protests and marches in towns and villages across the West Bank with teargas, rubber bullets and water cannon. In Gaza, protests and rallies have been held and the hunger strike has featured in sermons at Friday prayers. About 50 people, including former prisoners and activists, have started a sympathy hunger strike.
"The protests are getting bigger every day," said Hurriya Ziadi from Ramallah, whose brother is on hunger strike after 10 years in jail. "The Palestinian people are very angry because these are our brothers and sisters who are asking for basic human rights. This touches every Palestinian."
The prisoners' protest was "feeding a wide range of nonviolent protests all over the West Bank," said former presidential candidate Mustafa Barghouti.
"A hunger strike is one of the most effective forms of nonviolent resistance. But if there is a death, it will spark a lot of anger."
Egyptian negotiators are trying to head off that scenario by brokering a deal to end the protest. Some progress had been made, said Palestinian officials. Egypt mediated a deal last autumn which saw captured Israeli soldier Gilad Shalit released in exchange for more than 1,000 Palestinian prisoners.
The detainees' key demands are an end to imprisonment without trial or charge, known as "administrative detention"; an end to solitary confinement; allowing families from Gaza to visit prisoners in Israeli jails; access to educational materials; and an end to strip searches and night-time raids on cells.
The issue of prisoners' rights has strong resonance among Palestinian families, many of whom have seen relatives jailed. According to the
Addameer
, a prisoners' rights organisation, on 1 May there were 4,635 Palestinian prisoners in Israeli jails, including 308 on administrative detention, seven women and 218 children.
Palestinian human rights group say
about 2,500 prisoners have joined the hunger strike since it started as a mass protest on 17 April
.
The IPS says 1,550 prisoners are on hunger strike under medical supervision. Four prisoners were moved to hospital last week, Two prisoners had been removed from solitary confinement, an IPS spokeswoman said, including
Mahmoud Issa who was in isolation for more than 10 years
.
In a letter addressed to "my beloved Lamar", Tha'er Halahleh, who has refused food for 77 days, asked for forgiveness from his daughter who was born two weeks after he was imprisoned 23 months ago and whom he has never seen.
"When you grow up you will understand how injustice was brought upon your father and upon thousands of Palestinians whom the occupation has put in prisons and jail cells, shattering their lives and future for no reason other then their pursuit of freedom, dignity and independence," the letter said.
"You will know that your father did not tolerate injustice and submission and that he would never accept insult and compromise, and that he is going through a hunger strike to protest against the Jewish state that wants to turn us into humiliated slaves without any rights or patriotic dignity."
Bilal Diab, who has been held under an administrative detention order since last August, sent a will to his family two days ago, requesting celebratory sweets be distributed at his funeral.
"We will have victory, but only through martyrdom or immediate release - not any partial solution," he wrote. "On the 75th day of my hunger strike, I am still determined, patient and focused."
Israel says both men are members of Islamic Jihad and their detention is necessary on security grounds.