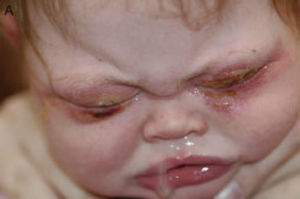 A Pierce County woman faces possible child abuse charges for putting household bleach in her child's eye medication. A Pierce County woman is charged with assault of a child in the first degree for allegedly putting bleach in her toddler's eye drops, causing what will likely be permanent eye damage.
The 13-month-old girl arrived at the emergency room at Seattle Children's Hospital last year with swelling in her eyes, sensitivity to light, scratched corneas and a mild infection. She was sent to the Opthalmology Department, treated and sent home. But she didn't get better. It was weeks before the horrible truth about her injuries was revealed.
Over the following days and weeks, the child's parents repeatedly brought the toddler back to Children's. She was given the standard treatment, including antibiotics and eyedrops, for a common problem. Still, she didn't improve.
Childrens' chief of opthalmology, Doctor Avery Weiss says with each visit, they did more diagnostic work and even quizzed the mother. "I'm sure we asked her, 'What are you putting on the eye?'" recalled Weiss. Her answer, "The antibiotics that you prescribed."
The child was hospitalized for three days and her condition improved. That told doctors that it was possible the mother was doing something to her toddler. Again, she was sent home.
"I wanted to be 100 percent sure so what I really wanted was some evidence outside the eye of child abuse and then when the child represented with a subdural hematoma, I said, 'This mother's abusing this child.'" said Weiss.
With the brain hemorrhage and other injuries, Child Protective Services was called. The eyedrops were confiscated and opened, letting out a noxious smell. The hospital could not identify the substance in the eyedrops but the F.B.I. eventually did. It was household bleach.
>>See photos of the child's injuries: WARNING - GRAPHIC IMAGES
Pierce County Prosecutor Mark Lindquist announced Monday that Jennifer Lynn Mothershead, 29, of Buckley is charged with assault of a child in the first degree. If convicted, she faces 93 to 123 months in prison. Lindquist said he would seek an exceptional sentence beyond the high end of the standard range, based on the child's exceptional vulnerability.
Mothershead pleaded not guilty. A judge set bail at $150,000.
Dr. Weiss says his department sees child abuse just about weekly,
usually the result of head trauma. "But we're not used to seeing child abuse of this nature where someone is instilling something in the eye," he said. Weiss admits he's never seen a case of tainted eyedrops.
Weiss authored a report for a medical journal, the April issue of the
Journal of American Association of Pediatric Opthalmology and Strabismus
, highlighting this case as a reminder that opthalmologists should consider and investigate child abuse when treating patients who don't respond to typical treatment.
In the case of the little girl from Buckley, "we went back and analyzed each of her visits and there were signs of child abuse from the very beginning," said Weiss. He concedes that even doctors who regularly see child abuse don't want to believe it.
The little girl is getting a little better, now able to open her eyes in a darkened room. But she still has extreme irritation and reduced vision. "This will be a lifetime problem for her, I suspect," said Weiss.