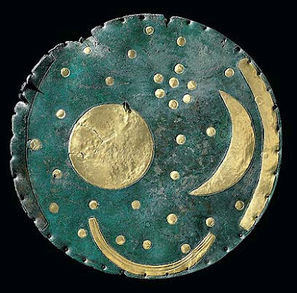 The National Maritime Museum Cornwall will display the 4500-year-old Nebra Sky Disc for the first time in its new exhibition, 2012 BC: Cornwall and the Sea in the Bronze Age.
A single bronze disc decorated with gold symbols that represent the sun, moon, stars and a boat, the Nebra Sky Disc is the world's oldest representation of the cosmos.
It reveals a prehistoric view of the world that before its discovery had never been known to exist, and has single-handedly reformed our understanding of ancient European history.
Amazingly, the disc has local roots: the gold and tin components have been traced back to the Cornish mines of Canon Down.
The Nebra Sky Disc shows that in prehistoric times Cornwall's mines were a vital resource for bronze production, which required 10% tin and 90% copper. Both materials are found in abundance throughout the county.
The 2012BC exhibition goes on to trace Cornwall's mining and shipbuilding heritage further back than ever before, revealing the extent of Cornish trade in Bronze Age Europe.
Other artefacts displayed include tin and copper ingots that were rescued from a Bronze Age shipwreck in Salcombe. They are thought to be the first evidence in the UK of metals being transported by boat.
Also central to the exhibition is the live reconstruction of the oldest boat ever found in Western Europe. The watertight sewn-plank vessel will be built using replica Bronze Age tools, yew tree fibre stitching and moss caulking.
16 metres long and made of oak, the boat will help visitors explore the ancient craft of Cornish shipbuilding. The world's leading expert in Bronze Age boats, Professor Robert Van de Noort, will be on hand to lead a team of archaeoligists and engineers through the construction.
Jenny Wittamore, Assitant Curator at National Maritime Museum Cornwall, expressed her excitement for the exhibition, saying, "We're honoured to be part of this ground-breaking work and look forward to our visitors rediscovering Cornwall's Bronze Age past."
The Maritime Museum Cornwall encourages visitors to be involved in a hands-on approach to learning about experimental archaeology techniques. They also offer a series of academic lectures to the public.
The 2012BC: Cornwall and the Sea in the Bronze Age exhibition opens at National Maritime Museum Cornwall on 13 April and runs until 30 September 2012.