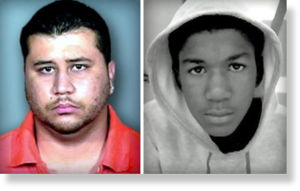 A forensic voice identification expert who analyzed the recordings said "without a doubt" that Trayvon Martin was the one screaming.
George Zimmerman, the man who shot and killed 17-year-old teen Trayvon Martin in Florida last month, was not the one screaming for help on the 911 tapes of the incident, according to two forensic experts who analyzed the evidence.
Trayvon Martin's family has insisted from the beginning that their son was the one heard screaming on the recordings, though Zimmerman's family disagreed, Slate reported. Zimmerman has claimed he shot Martin as an act of self-defense, and told police he was the one screaming for help.
Tom Owen, a forensic consultant and chair of the American Board of Recorded Evidence, used voice identification software to analyze the tapes at the
Orlando Sentinel's
request. Ed Primeau, a Michigan-based audio engineer and forensics expert, also examined the 911 recordings using different techniques. Both experts concluded that the voice calling for help is not Zimmerman, according to the
Sentinel
.
Owen used a program called Easy Voice Biometrics to compare Zimmerman's voice to the 911 call's screams, and it returned a 48 percent match, the
Sentinel
reported. To get a conclusive match with that quality of audio, the percentage should be higher than 90, Owen told the
Sentinel
.
"As a result of that, you can say with reasonable scientific certainty that it's not Zimmerman," Owen said. He was unable to confirm the voice as Trayvon's, however, because he didn't have a sample of the teen's voice to use as comparison.
Primeau, who enhances audio and then analyzes it manually, also offered his professional opinion on the call.
"I believe that's Trayvon Martin in the background, without a doubt," Primeau told the
Sentinel
. "That's a young man screaming."
Primeau said Zimmerman's call to the police minutes before the shooting provides a good standard for comparison, "because it captures his voice both at rest and in an agitated state," according to the
Orlando Sentinel
.
Martin's murder has been the focus of national attention since the incident on February 26th. Three separate investigations of the shooting are being conducted, and the police chief of Sanford, Florida has stepped down temporarily.
Source: Global Post