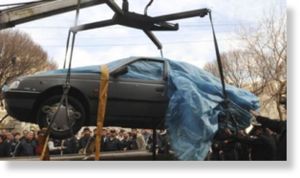 The Azerbaijani government has reportedly aided a terrorist element, involved in the killing of Iranian nuclear scientists, who belongs to the Israeli spy agency of Mossad.
According to the report, the Jewish man who worked as a Mossad agent in Baku using the assumed name Javidan had a major role in the assassination of Iranian nuclear experts Mostafa Ahmadi Roshan and Massoud Ali-Mohammadi.
Ahmadi Roshan was killed in January after a motorcyclist attached a magnetic bomb to his car in Tehran. He served as the deputy director of marketing at the Natanz nuclear facility.
According to the report, Azeri secret service helped Mossad agents in terrorist attacks against Iranians by providing technical and logistical support.
Last year, Majid Jamali Fashi, who assassinated Massoud Ali-Mohammadi, confessed to having received forged documents in Azerbaijan's Heydar Aliyev Airport to travel to Tel Aviv.
Professor Ali-Mohammadi, a lecturer at Tehran University, was killed when an explosive-laden motorbike was detonated with a remote-controlled device near his home in northern Tehran in January 2010.
Last week, Iran's Foreign Ministry summoned the Azeri envoy to Tehran, Javanshir Akhundov, to object to Baku granting asylum to the Mossad-trained assassins of Iranian nuclear scientists.
According to a report published in
The London Times
on Saturday, Israel is using Azerbaijan, a small Eurasian country which shares a border with Iran, as a base to spy on Iran.
Israel has resorted to various terrorist tactics to stop Iran's peaceful nuclear program, which is under full observation of the inspectors of the International Atomic Energy Agency.