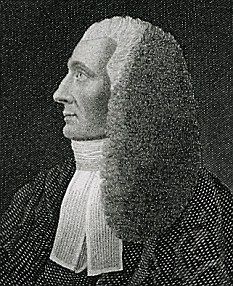 His barnstorming performances in court rewrote the law books. But it was 18th-century barrister William Garrow's shocking love life that caused the biggest rumpus in Georgian society
It was 1791, and chaos reigned in the Old Bailey courtroom. Men and women spat their abuse from the public gallery, the faces of bewigged legal officials remained impassive and in the dock, wringing his hands in abject misery, stood 23-year-old Rhynwick Williams.
The search for the notorious London Monster - who had slashed and stabbed women in vicious, unprovoked attacks, thus striking fear throughout the capital - was apparently over.
Corrupt and inept police, under intense pressure to find a man, had done just that.
Williams, a drunken reprobate, had found himself hauled before court. It didn't matter that two honourable witnesses could testify that he had been with them when several of the attacks had occurred. All that mattered was that the baying crowd were about to get their blood.
In these times of swift trials - many court hearings lasted just eight minutes - and death penalties meted out without hesitation, Williams' future looked bleak indeed - and everyone in court knew it. Suddenly, out of the chaos, stepped a young barrister.
Grasping the attention of the court and the rabble in the gallery, he turned on those giving evidence and launched a savage verbal attack.
William Garrow, also 23 and new to the bar, was determined to represent Williams. His words - eloquent, stinging and incisive - caused a hush to fall upon the courtroom.
By the time Garrow strode from the court later that day, he had made legal history.
Not only did he save the life of the hapless Williams, but also thousands of others who would stand accused.
Garrow was the Robin Hood of the courtroom - a poor boy who had worked his way up and was now determined that the penniless, the ignorant and the weak would no longer be tried by corrupt officials and framed for crimes they did not commit. It was Garrow who coined the phrase 'innocent until proven guilty'.
But the extraordinary story of the young barrister, who became the celebrity of his day, might have been confined to the annals of history had it not been for the publication of Old Bailey trials from 1674 to 1913.
When these transcripts were put online for the first time in 2008, dozens of television production companies fell upon them, scouring the court reports to find possible dramatic spin-offs.
It was researchers for TwentyTwenty Television who came across Garrow's incredible courtroom performances, and spotted a potential hero from the past who could be immortalised in a television drama. The BBC eagerly agreed, and the project was handed to 51-year-old Tony Marchant, the award-winning writer behind
Holding On
and
The Mark Of Cain
.
Marchant immersed himself in Garrow's real-life world and trials, and as he researched his subject, something unexpected came to light - a forbidden and intense love affair which was every bit as passionate and cataclysmic as Garrow's court battles.
'Garrow's character was larger than life,' says Marchant. 'Even after all these years, his passion leapt from the pages. He was a maverick who stood up for the poor and defenceless, often regardless of whether he was paid or not. Garrow provided the earliest form of legal aid.
'Up to 20 trials a day would take place at the Old Bailey, and many of them involved Garrow. If he happened to be in court, he often could not resist leaping to his feet and tearing into the prosecution witnesses.
'Some of his cases involved terrified chambermaids, aged from 15 to 19, who had been made pregnant by their masters. They had given birth, alone and terrified, and in their attempts to cut the cord wrapped around their baby's neck, they had accidentally killed the child. The girls would then be tried for infanticide.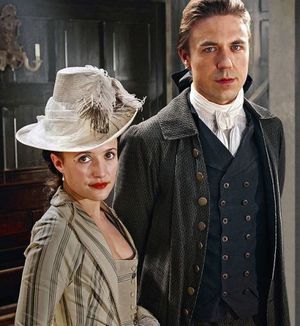 'Time and time again, Garrow managed to prove that either the baby had never drawn breath (making murder impossible) or that the baby had died accidentally.
'Another case involved a whistleblower who complained about the appalling conditions of seamen in t he Greenwich Hospital. Not only was the man sacked, but he also found himself tried for malicious libel.
'Garrow was outraged to learn of the squalid conditions. His rage in the courtroom, and his belief that the corruption stretched from the hospital authorities up to Westminster itself, was high drama indeed.
'In fact,' says Marchant, 'Garrow invented courtroom drama. As a writer, I simply read his outbursts and marvelled at the man who was scared of nobody, and who verbally savaged so many.'
Garrow's most infamous case was that of the London Monster, who would appear from nowhere, slash women's clothes and cut open their thighs or stab them in the buttocks.
Sometimes he would appear with a bouquet, invite a woman to sniff the flowers and then stab them in the face with a dagger concealed among the nosegay.
Such was the hysteria that women started to go out with copper pans fastened to their petticoats. More than 50 women were attacked in two years, and the hapless Bow Street Runners, London's police force at the time, were under increasing pressure to find a suspect.
Finally, on 13 June 1790, Rhynwick Williams was arrested and charged with defacing someone's clothing - a crime that carried harsher penalties than assault or attempted murder.
Although several co-workers and an employer claimed to have been with Williams when the attacks were carried out, the entire court bayed for his blood. It was only when Garrow stepped forward - and exposed the prosecution witnesses as only interested in claiming the £100 reward - that Williams was shown some mercy.
Garrow's actions that day saved his life. Instead of the death penalty, he was sentenced to six years in prison.
Garrow's defence made him the most famous - and feared - barrister of the day. For ten years, he ruled supreme at the Old Bailey. But in his life away from the courtroom was a story of forbidden love that survived against the odds.
As Marchant researched Garrow's life, he discovered that the barrister had fallen in love with another man's wife.
Sarah Dore left her husband, Sir Arthur Hill, with her child to go and live with Garrow.
'It was unheard of in those days for a man to raise another man's child,' says Marchant, 'but this is what Garrow did. He and Sarah went on to have two illegitimate children of their own, and lived happily and openly together before finally marrying.
'Garrow's love life and family life were ahead of their time - just like his fights for real justice. Inside the courtroom and out, he didn't care what other people thought of him. He just did what he believed was right.'
The character of William Garrow burst into life with the first - and now the second - series of Marchant's brilliant drama,
Garrow's Law
.
But what happened to our real-life hero? Garrow and Sarah remained happily together for the rest of their lives.
After ten years as a barrister, at the age of 33, Garrow moved into politics. He became an MP, the Attorney General and finally a judge. He ended his days as a Tory and a reactionary - fighting against the legal reform he had once pushed for.
Perhaps his willingness to join the ' establishment' poured cold water over the drama and the legend of his earlier life. But one thing is certain: the hundreds of people standing trial across the country each day enjoy proper justice, thanks to this maverick from the past.