Egyptian security forces' shameless and brutal treatment of female protesters has reached the World Wide Web as well as media outlets, sending shockwaves through the international community.
On Sunday, the troops attacked the protesters for the third consecutive day in the capital Cairo, continuing to brutalize young activists. At least 10 protesters have been killed and 441 wounded in the violence, which erupted on Thursday, when one of the several hundred peaceful protesters staging a sit-in outside the cabinet offices was detained and beaten up by the troops.
Photos and video footage posted online showed the forces' mercilessly attacking a female protester, pulling up her manteau and dragging her half-naked through the street. One riot police member -- strangely in sneakers instead of the uniform footwear -- was seen kicking her savagely in the chest.
On Saturday, the troops pulled female protesters across the pavement by their hair, violently taking off their headscarves, besides kicking activists in the head until they became motionless.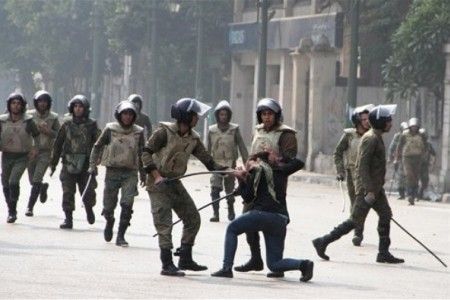 International media presence did not discourage the troops from brutalizing the protesters, who are demanding that the ruling Supreme Council of the Armed Forces (SCAF) immediately leave power.
The SCAF took over following the popular revolution that toppled the former Egyptian dictator Hosni Mubarak in February. It has, however, so far refused to live up to its promise of handing over the power to a civilian government.
The recent crackdown on the pro-democracy protesters by the ruling junta has been the fiercest show of force targeting the demonstrators since the revolution. The protesters say the SCAF has continued the old ruthless practices of the decades-long regime of the ousted dictator.
Analysts, meanwhile, warn about the consequences of the maltreatment of the female protesters by the regime forces, saying it can cause outrage among the Egyptians, who pride themselves on building a society that has great respect for women.
"Do they think this is manly?" Toqa Nosseir, a 19-year-old student, said of the attacks on women. "Where is the dignity?"
In Tahrir Square, the protesters held up newspapers with the images of the troops beating up and dragging women on the front page, and shouted, "This is the army that is protecting us."