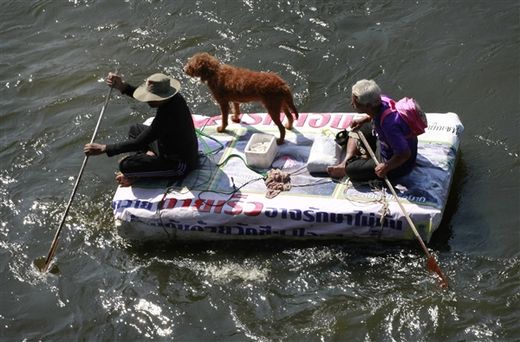 Thailand - One of the most striking things about the Thai floods is the sheer ingenuity people have shown to simply get around.
I've seen all manner of aquatic contraptions, from rafts made from empty drinking water bottles to crafts fashioned from larger plastic drums, with a bicycle mounted on the deck driving a home-made propeller through the increasingly fetid waters.
Thailand's National Science and Technology Development Agency even ran a competition called "Mobility in the Time of Flood," which attracted 89 entries and was won by another bicycle-driven raft cobbled together by a bunch of students. The Bangkok Post devoted most of its back page to the contest Tuesday under the headline "Amateur Inventors to the rescue."
It provided a note of humor amid increasingly angry recriminations over who's to blame for
a deluge that's swamped a third of the country and killed more than 600 people
. The floods have also affected some 10,000 factories, and hit the global supply chain for automotive parts and hard disk drives.
Nearly half a million workers have been affected. Japanese-owned factories are particularly badly hit, and the government fears that many will curtail future investment plans. Japan is the largest foreign investor in Thailand.
The clean-up and recovery will cost billions of dollars, and shave an estimated 2.5 percent off economic growth.
The good news is that the floodwaters are receding to the north of the city. In Bangkok, the authorities say the eastern suburbs should be dry within a week or so, though it could be the new year before the water drains from western areas.
Don Muang airport and its surrounding areas still resemble a lake. The airport is only home to a couple of low-cost carriers these days, most flights now departing from a new airport, but it's still a remarkable sight.
Blame game begins
Of course, few people now trust the predictions of the authorities, which have changed constantly, with officials frequently contradicting each other from day to day.
National government officials are in a constant sparring match with their city authorities, and, of course, rival political camps are accusing each other of mismanagement.
There's anger in the outer suburbs, where many believe they were sacrificed to keep downtown Bangkok dry. Angry residents have even ripped down dikes in some areas to allow the floodwaters to shift.
Some blame irrigation officials for failing to release water from up-country dams earlier in the year.
Deputy Prime Minister Kittiratt Na-Ranong had a simpler explanation in an interview with Dow Jones Newswires. It was unfair to accuse the government of mismanagement, he said. "This has to be the result of climate change and global warming."
Well, up to a point, Mr. Kittiratt.
Many reports have suggested that low-lying Bangkok is vulnerable to rising sea levels, and, yes, Thailand had heavy rain this year - roughly 25 percent more than normal by some estimates.
But the great flood of 2011 was a largely manmade disaster.
The country has seen years of mindless development, much of it on what has historically been a flood plain to the north of the capital. Paddy fields have been paved over with concrete to make way for vast industrial estates and urban sprawl. Natural drainage routes have been blocked.
In the city, too, a once massive network of klongs (canals), the city's drainage system, has been replaced by roads; housing developments sit where water used to flow.
That so many people and businesses were in harm's way in areas that are historically vulnerable to floods, with the waters left with nowhere to go, is the result of decisions taken over the years by short-sighted and often venal politicians.
To blame it all on climate change is an enormous cop-out
.