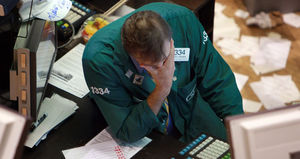 London - Wall Street braced for losses on Tuesday after world stock markets took a beating over fears that
the U.S. economy was heading back into recession
.
Any troubles in the world's largest economy cast a long shadow over the markets, and a report Friday that
the U.S. economy failed to add any new jobs in August
caused European and Asian stock markets to sink sharply Monday.
That jobs figure was far below economists' already tepid expectations for 93,000 new U.S. jobs and renewed concerns that
the U.S. recovery is not only slowing but actually unwinding
. U.S. hiring figures for June and July were also revised lower, only adding to the gloom.
The full impact of the jobs report will hit U.S. markets on Tuesday, since trading there was closed Monday for the U.S. Labor Day holiday.
The jobs crisis has prompted President Barack Obama to schedule a major speech Thursday night to propose steps to stimulate hiring.
Until then, however, traders coming back from the U.S. holiday weekend will have little to hold onto. The uncertainty has already pushed many to pull out of any risky investments - such as stocks, particularly financial ones, the euro and emerging market currencies - and pile into safe havens: U.S. Treasuries, the dollar, the Japanese yen and gold.
With Wall Street closed, investors focused their selling drive in Asia and Europe, where the equity losses Monday were some of the heaviest this year.
"We've got some rough riding ahead," said Jack Ablin, chief investment officer at Harris Private Bank in Chicago, adding he was "concerned that we could see a second wave of selling when most traders are back at their desks."
Dow futures were down 1.8 percent at 11,010 points while the broader S&P 500 futures were 2.0 lower at 1,145.70.
The health of the U.S. economy is crucial for the wider world because consumer spending there accounts for a fifth of global economic activity. The U.S. imports huge amounts from Japan and China and is closely linked at all levels with the European market. Beyond its lack of jobs growth, the U.S. has seen a slump in consumer and business sentiments.
Traders were hoping for signs that the Federal Reserve might take action at its September meeting to support the economy - perhaps a third round of bond purchases, dubbed quantitative easing III or QE3, analysts said.
"Right now the possibility has increased," said Linus Yip, a strategist at First Shanghai Securities in Hong Kong. "I think they have to do something. The markets are expecting QE3."
After Asian indexes closed lower, with the Japan's Nikkei 225 shedding 1.9 percent, European shares booked sharp losses. Britain's FTSE 100 closed the day down 3.6 percent to 5,102.58. Germany's DAX slumped a massive 5.3 percent to 5,246.18, and France's CAC-40 tumbled 4.7 percent to 2,999.54.
Banking stocks were among the hardest hit, partly because the U.S. government on Friday sued 17 financial firms for selling Fannie Mae and Freddie Mac billions of dollars worth of mortgage-backed securities that turned toxic when the housing market collapsed.
Among those targeted by the lawsuits were Bank of America Corp., Citigroup Inc., JP Morgan Chase & Co., and Goldman Sachs Group Inc. Large European banks including The Royal Bank of Scotland, Barclays Bank and Credit Suisse were also sued.
Renewed jitters over the eurozone debt crisis also contributed to the slump in financial stocks amid concerns the banks would need to raise new capital. Deutsche bank closed down 8.9 percent in Frankfurt, while Societe Generale in Paris shed 8.6 percent.
And the European debt crisis was never far away. An international debt inspectors' review of Greece's finances was interrupted Friday amid disagreements over the country's deficit figures. The review will resume in 10 days and must be completed in order for Greece to receive bailout loans at the end of the month.
Investors were also shaken by signs that the Italian government's commitment to its austerity program is wavering. Prime Minister Silvio Berlusconi's government has backtracked on some deficit-cutting measures, prompting EU economic officials to urge Italy to stick to its promised plan.
The yields in so-called peripheral eurozone countries, such as Greece, Italy and Spain, rose sharply Monday while those of Germany - whose bonds are widely considered a safe haven - fell.
The economic indicators, meanwhile, were mostly downbeat. Although retail sales in the eurozone rose unexpectedly in July, a survey of the services sector showed a slowdown across the continent for the fifth consecutive month.
The purchasing managers' index for the 17-nation eurozone showed the services sector was still growing - unlike the manufacturing sector - but only barely. That will add pressure on the European Central Bank to keep interest rates on hold when it meets this week.
"Indeed, the latest data and surveys suggest that the ECB's eventual next move could actually be to trim interest rates, although it is likely to need sustained eurozone economic weakness and possibly even GDP contraction to get the ECB to perform a U-turn on interest rates," said Howard Archer, economist at IHS Global Insight.
In Asia, Australia's S&P/ASX 200 followed the broaden trend to close down 2.4 percent and South Korea's Kospi slid 4.4 percent. Hong Kong's Hang Seng slid 3 percent. Benchmarks in Singapore, Taiwan, New Zealand and the Philippines also were down.
Shanghai's benchmark Composite Index down 2 percent to 2,478.74, its lowest close in 13 months. The Shenzhen Composite Index lost 2.4 percent.
In currencies, the euro weakened to $1.4100 from $1.4187 in New York late Friday. The dollar was roughly flat at 76.87 yen. Last month, the dollar fell under 76 yen, which was a new post-World War II high for the Japanese currency.
Benchmark oil for October delivery was down $2.12 to $84.33 a barrel in electronic trading on the New York Mercantile Exchange. Crude fell $2.48 to settle at $86.45 on Friday.
In London, Brent crude for October delivery was down $1.63 at $110.70 on the ICE Futures exchange.