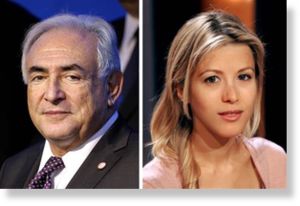 French accuser's mom claims to be latest among ex-IMF chief's victims
The parade of women accusing Dominique Strauss-Kahn of sexual brutality has just taken another twist. A very bizarre twist.
It started in 2007 with allegations by Tristane Banon, a French journalist, that Strauss-Kahn had grappled "violently" with her and tried to undo her jeans and bra during a private interview. A year later, Piroska Nagy, a former economist at the International Monetary Fund, told IMF investigators that Strauss-Kahn had pressured her into a sexual relationship when she worked for him. The investigators confirmed the relationship but said there was "no evidence" that Strauss-Kahn had "threatened [her] in any way to induce her to engage in the affair." Other women accused him of making crude passes, and in May, he was indicted for allegedly assaulting a maid at a New York hotel. That case has crumbled because the accuser, according to prosecutors, lied to them about a previous rape. But the bruises in her vagina and the semen on her shirt, which reportedly matches Strauss-Kahn's DNA, leave him with a lot to explain.
Two weeks ago, Banon, Strauss-Kahn's initial accuser, filed a complaint accusing him of attempted rape. And another woman is now claiming to have endured sexual aggression at his hands: Banon's mother, Anne Mansouret.
Until now, Mansouret was thought to be a mere witness to the 2003 Banon incident. According to a report published last night in
L'Express
, Mansouret has told investigators that Banon phoned her in shock and that she (Mansouret) went to meet Banon outside the apartment where Banon claims to have been assaulted.
L'Express
specifies the apartment's address: 13 rue Mayet. This account backs up Banon on two elements of her story.
That was expected. This was not: According to
L'Express
, Mansouret told investigators that she, too, had sex with Strauss-Kahn. The encounter allegedly happened in a Paris office of the Organization for Economic Cooperation and Development while Strauss-Kahn was a special adviser to the OECD secretary general. If true, this means Strauss-Kahn had sex with Mansouret in 2000 and then, three years later, went after her daughter.
It also means that when Mansouret initially advised Banon not to file a complaint against Strauss-Kahn, she wasn't just a mother counseling a daughter. She was - without her daughter's knowledge, according to
L'Express
- a former sex partner of the alleged assailant.
But that's history now, because Mansouret isn't just supporting Banon's account of the 2003 incident. She's also reporting that her own encounter with Strauss-Kahn in 2000 included, in the words of
L'Express
, "consensual but clearly brutal sex." (That's a translation courtesy of our sister publication, Slate.fr.)
L'Express
reports that Mansouret "describes DSK as a predator who isn't looking to please but to take, and behaves like an obscene boor. Sexual lust makes him want to dominate."
In fact, Mansouret reportedly claims that Strauss-Kahn, through his second wife, Brigitte Guillemette, confirmed both incidents. According to
L'Express
, Mansouret said she phoned Guillemette soon after the Banon incident, and Guillemette "allegedly told her she knew he had already had inappropriate behavior with students." Mansouret asserts, on this account, that Guillemette asked Strauss-Kahn about the Banon episode and that he told her, essentially, "I don't know what happened to me. I slept with the mother, I lost it when I saw the daughter."
So here's where we stand. Two women have accused Strauss-Kahn of sexual assault. Three (including those two) have accused him of sexual brutality. A fourth has accused him of sexually pressuring her when she worked for him. Others have accused him of crude advances. In the IMF case, he has admitted to a sexual relationship. In the New York case, the evidence reportedly shows semen and bruising in a first-time encounter with a maid that took less than 20 minutes.
But there's a big problem with Mansouret's story: Guillemette denies it.
L'Express
says that when investigators asked Guillemette about Mansouret's version of events, she told them, "All this is false." And if Guillemette rejects Mansouret's account of their conversations, that could undercut Mansouret's credibility about her own incident as well as Banon's.
Mansouret's sordid tale, as reported by
L'Express
, deepens the portrait of Strauss-Kahn as a sexual aggressor with a pattern of pressure and violence, including the sequential pursuit of a woman and her daughter. But precisely because this portrait is so grotesque and so reliant on a mother and daughter whose stories are now sexually intertwined - and now challenged by another woman - Mansouret's allegations could make Banon's story harder to believe. That doesn't mean Strauss-Kahn will walk away a free man. It just means that some other woman will have to come forward. And if the portrait of him is accurate, that woman almost certainly exists.
Source: Slate.com