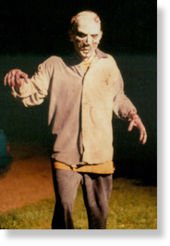 A teenager from Canada who allegedly stabbed to death a 21-year-old man in Glasgow, Scotland after hearing voices saying the man was a zombie, has been found not guilty of murder by reason of insanity.
Scottish media reports say a jury at the High Court in Glasgow cleared 19-year-old Tianhui Zhan of murdering 21-year-old Michael Davis on Oct. 13, 2010.
Davis had just finished work as a cleaner and was on his way to a second cleaning job when Zhan allegedly stabbed him three times. He underwent surgery but died from his injuries the following day.
According to the reports, the court heard Zhan picked his victim at random in an unprovoked attack because he believed Davis was a zombie who was going to attack him.
The court also heard that Zhan, who is of Chinese origin but lives with his parents in Canada, travelled to Glasgow after hearing voices saying he should go there.
He reportedly told a psychiatrist that he started seeing blood over the faces of people and was convinced they were zombies.
The teenager, whose home town is not known, is now receiving treatment at a local hospital for paranoid schizophrenia.
Media reports say the court heard that Zhan had suffered from mental health problems since the age of 14 and had consistently refused to take his medication.