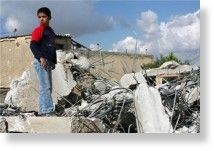 Israeli occupation forces demolished Tuesday a Palestinian house in Khirbet Biet Iskaria located in the south of Bethlehem.
Awad Abu Sawi, the Bethlehem director of the local Committee Against the Wall and Settlements, said that an Israeli force escorted by three bulldozers raided the village and started the demotion after declaring the area as "a military closed zone".
The house owned by the Palestinian citizen, Mahmoud Saeed, was inhabited by 11 persons.
The house owner said that he was handed an Israeli demolition notice under the pretext of illegal construction, noting that several house in the same area are subjected to Israel's threat.
Stating that Israel used to demolish Palestinian homes in that area aiming at pushing them from their own land in order to expand its illegal settlements.
Residents are terrified of a series of demolitions as Israeli forces are still existing in the area.