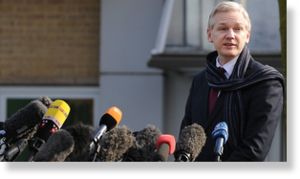 Julian Assange is bringing in the UK's most high-profile lawyers as he tries to avoid extradition to Sweden.
The move comes ahead of an important July 12 appeals hearing in the UK High Court, which will rule on whether Assange - who heads Wikileaks - should be handed over to Swedish authorities for questioning.
The website chief has denied wrongdoing and has not been formally charged. The allegations arose as WikiLeaks was in the midst of a controversial release of a bevy of US State Department cables.
Attorneys Gareth Peirce and Ben Emmerson will represent Assange at the upcoming hearing, their offices confirmed separately. His long-time lawyer, Mark Stephens, declined to say whether he was still representing Assange.
"I'm not prepared to go into that," Stephens said by phone. Asked if he had parted ways with Assange, Stephens said: "That's not entirely accurate."
"There might have been some changes in the legal team but I don't have any update," WikiLeaks spokesman Kristinn Hrafnsson said.
Assange did not respond to emailed questions.
Geoffrey Robertson, another high-profile lawyer who has argued Assange's case in court, did not respond to phone calls or emails.
Fees were a key part of Assange's calculus in adjusting his legal team, a person familiar with the matter said.
Stephens, who has been Assange's lawyer, said previously that he was not working on a pro bono basis. Assange instructed supporters to send donations for his legal defence fund directly to Stephens's law firm, Finers Stephens Innocent LLP.
The offices of Peirce and Emmerson declined to comment on whether they had taken on Assange's case pro bono.
The new additions to Assange's team are prominent in the UK legal community. Peirce is well known for her role in freeing four people who spent years in jail after being wrongfully convicted of a 1974 pub bombing in Guildford, England.
Emmerson, who has been hired to serve as Assange's Barrister in court, was recently appointed UN special rapporteur on counter-terrorism and human rights. He led the defence of former Kosovo Prime Minister Ramush Haradinaj, who was on trial for war crimes in the Hague.
Sweden has not formally charged Assange with a crime, but wants to question him over allegations that he raped one woman and molested another during a visit to Stockholm last August. He denies any wrongdoing.
A U.K. court in February ordered him to be extradited to Sweden. He is appealing that decision.
Since his arrest in the UK in December, he has been required to live under strict bail conditions at a supporter's house, where he must check in with the police each day and wear an electronic monitoring bracelet.