06/15/2011 - A day that will go down in history for all the wrong reasons
I cried twice today.
I'm an eternal optimist, always have been, always will be, and never once did the thought of the Vancouver Canucks losing in the Stanley Cup Final cross my mind. Not once.
That made dealing with the inevitable hardship worlds more difficult; Thursday was truly a day of grieving and it got the best of me when I took a seat in Rogers Arena for an all-staff meeting just before lunch. They were tears of disappointment and exhaustion.
I wanted to be so hungover Thursday that my headache had a migraine, instead I spent the bulk of the day sitting in my office playing out different what-if scenarios in my head. Then I was asked to head downtown to the scene of the unthinkable riots to talk to some people who were apparently spearheading a cleanup effort.
Great
, I thought,
a few people will be picking up trash, it'll be the equivalent of fighting a rhinoceros with a cocktail sword
.
Then I got to the heart of the city.
And I cried again. They were tears of pride.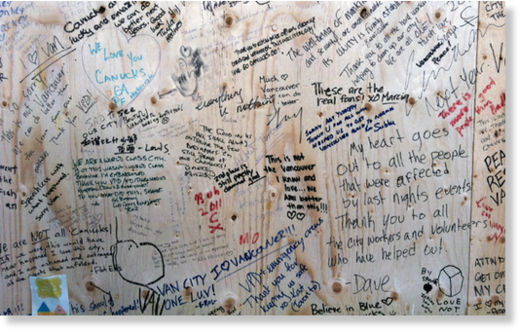 By the time I got downtown the cleanup effort was essentially over. By the time you read this it'll be as if a riot never went down, with the exception of windows that remain boarded up on storefronts.
The Bay, located at the corner of Seymour Street and West Georgia Street, typically a window shopper's paradise, had most of its windows smashed in when looting became all the rage and Thursday it was boarded up like an abandoned warehouse.
These boards explained how while the evening of June 15 saw the worst of us, the morning of June 16 saw the best of us.
Thousands of messages covered the "Wall of Love," many from people who descended upon downtown Vancouver from far and wide to spearhead a grassroots cleanup effort to undo all that was done following the Canucks Game 7 loss.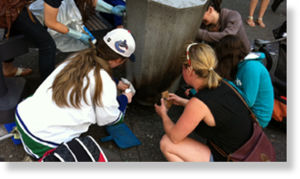 There was blue and green everywhere as fans showed their pride in their team, and brooms, dustpans and rags everywhere as fans showed their pride in their city.
Jordan Kryzanowski was carrying a broom and his three-year-old son Savion, who had a yellow cleaning glove on and an orange cleaning glove on, as the pair chipped in where they could.
Kryzanowski lives near Rogers Arena and he witnessed much of the rowdiness Wednesday night and as he questioned the level of respect and values of those causing trouble, he realized this was a great learning opportunity for his son.
"I try to teach my kids values, I try to teach them to respect people, try to show them that they should love all people and be grateful to be a in great city like this," said the 40-year-old.
"We're lucky to live in Vancouver, so it's important for me to bring him down here and teach him those principles again. Show your city that you love it and that you respect it and value it and there's a great vibe out here today. Last night it was just the opposite, but hopefully we can get this city back on track and come back next year and win the Cup."
Kate Leinweber and Dani Lemon, diehard Canucks fans, intended to spend Thursday making Mason Raymond a get-well card to help support him during his difficult recovery from a vertebrae compression fracture that will keep him off the ice for four to six months.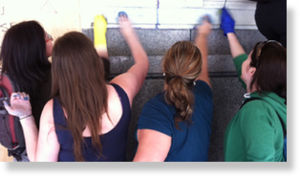 Instead Leinweber and Lemon grabbed some scrub brushes and went to work on the graffiti filled storefront of The Bay.
The pair, joined by their new friends Katelynn Dey and Susan Seibold, had been scrubbing away foul language directed at the Boston Bruins for hours and they made a true difference on the defacement and the atmosphere of the city.
"We decided that there was a lot of bad vibes over what happened last night and it's not a reflection of who we are as a city and it's not a reflection of who we are as Canucks fans," said Leinweber. "I don't want the rest of the world, or anyone who lives in this city, to think that what happened last night was any reflection of the types of people who live here."
"I feel so much better now," said Dey, who pitched in during her lunch break. "I was so upset last night and now I feel hope again."
We can all feel hope again.
06/16/2011 - A day that will go down in history for all the right reasons