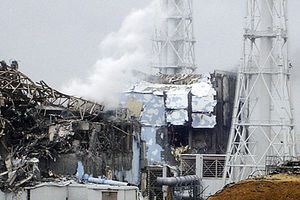 The operator of the crippled Fukushima Daiichi nuclear power plant is preparing for an approaching severe tropical storm by piling up sandbags and moving cranes to a safe place.
Japan's Meteorological Agency says heavy rain is expected in the area around the power plant beginning on Sunday night. In some areas, torrential rain and strong wind are expected from Monday to Tuesday.
Tokyo Electric Power Company is piling up sandbags around electric facility buildings and sealing the doors to keep rainwater out.
The company says if rain and wind become intense, all operations except for patrolling will stop.
The level of contaminated water in the turbine buildings of the Number 2 and 3 reactors and tunnels has been rising.
The company says it will closely monitor the level to prevent contaminated water from overflowing and seeping into ground water and the sea.
The utility is also studying ways to stop radioactive substances deposited on debris and buildings from being washed away by rain and flowing into the sea via gutters.
.