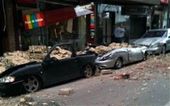 At least ten people were reported dead and dozens injured after an earthquake shook southeastern Spain on Wednesday, toppling historic buildings in the medieval town of Lorca.
A 5.1 magnitude earthquake has hit the town of Lorca in southern Spain, leaving seven people dead and several medieval buildings collapsed.
The 5.2 magnitude earthquake was felt across the Murcia region, where hundreds of British expatriate live, from Alicante to Malaga and as far away as Madrid.
A 5.1 magnitude earthquake has hit the town of Lorca in southern Spain, leaving a seven people dead and several medieval buildings collapsed.
The epicentre was registered in the Tercia mountain range close to the town of Lorca, where several buildings were destroyed including a medieval church bell tower. It was the worst earthquake in Spain for 50 years.
Authorities confirmed that at least ten people had died, including a child of 13 years old.
Francisco Jodar, the mayor of the town said: "Unfortunately people have died as a result of cave-ins and falling debris. We're trying to find out if people have been trapped inside the collapsed houses."
Television images showed streets in the historic quarter of the town strewn with rubble and crushed cars. There were also reports that historical heritage sites as the Sanctuary of the Virgen de la Huerta and several local temples had been damaged.
The local hospital was evacuated raising fears over how those injured would be treated and military units were dispatched to the earthquake zone to help in the rescue.
An earlier quake registering 4.4 on the Richter scale occurred at 5.05pm local time, and the second bigger shock of 5.2 followed at 6.47pm.
Residents in the town, which has a population of around 90,000, described the terrifying moments when the quake struck.
"There was a tremendous roar and the church was split in half," Catalina Lopez, told Spanish state television.
One neighbour said that most people had already left their houses before the second bigger quake struck.
"I felt a movement of such force, and with such noise, that made all the furniture jump about. It was terrifying," said Juani Avellaneda.
"Everyone ran into the street and then when we were thinking it was safe to return to our houses, the shaking started again," he said.
Lorca dates back to the Bronze Age and is thought to have gained its name from the Romans. The old part of the town is made up of a network of narrow alleyways.
Spain is at moderate risk of earthquakes. On average every 200 years an earthquake of over six on the Richter scale occurs. In 2007 an earthquake of 6.3 magnitude struck the region in Cabo Sao Vicente on Portugal's southern coast, with no reports of damage or casualties.
The biggest earthquake to hit Europe in recent years occurred in April 2009 when a 5.8 magnitude earthquake hit L'Aquila in central Italy killing over 300 people.
One in five residents of Rome did not go into work and many children were kept off school on Wednesday following the 1915 prediction of Raffaele Bendani, a seismologist, that "the big one" would strike on May 11, 2011.