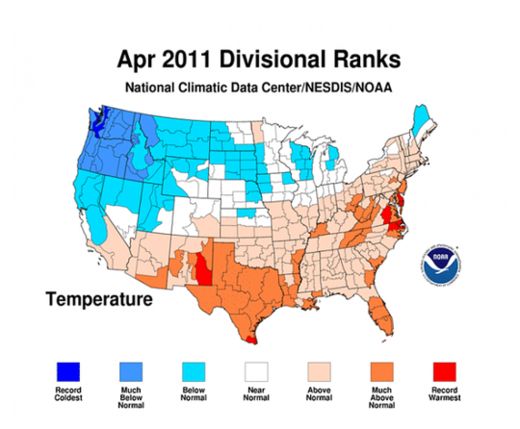 April 2011 sure was a wild weather month. A record-breaking tornado outbreak capped a month of extremes, and many natural disasters, including historic flooding and devastating wildfires, continue into May.
Here are the numbers, according to the National Climatic Data Center in Asheville, N.C.
Temperature
Average U.S. temperature in April:
52.9 degrees Fahrenheit (11.6 degrees Celsius).
Degrees above the 1901-2000 average:
0.9 degrees F (0.5 degrees C).
State that had its warmest April on record:
Delaware. April 2011 was the fourth warmest April for Virginia and the fifth warmest for Texas. Florida and Louisiana had their seventh warmest, New Mexico and West Virginia their eighth, New Jersey its ninth and Maryland its 10th.
Washington State came in at its second coolest April, 5 degrees F (2.8 degrees C) below their long-term average. Oregon (with its fifth coolest April) and Idaho (10th coolest) were also much cooler than normal.
Rainfall
Rainfall above average for April:
0.7 inches (1.8 centimeters)
April rain rank:
10th wettest April on record
Region that had its wettest April on record:
Ohio Valley
Region that had its second wettest April on record:
Northeast
States that had their wettest Aprils on record:
6.Illinois, Indiana, Kentucky, Ohio, West Virginia and Pennsylvania. An average of 11.88 inches (30 cm) of precipitation fell across Kentucky, nearly three times its average, breaking the previous record (7.61 inches (19.3 cm) in 1972) by more than 4 inches (10.2 cm).
Drought
Drought footprint decrease:
22 percent, which is still slightly above average. The area of the country affected by the two most intense drought categories (D3, Extreme and D4, Exceptional) has increased for 10 consecutive weeks.
Texas drought rank:
Fifth driest April on record.
Percent of Texas with either "Severe" or "Exceptional" drought:
94 percent.
Number of acres burned by wildfires in April:
1.79 million acres.
Tornadoes
Preliminary number of tornadoes in April:
875 (damage surveys to confirm these are ongoing).
Previous record for April tornadoes:
267 in April 1974.
Previous monthly record for tornadoes:
542 in May 2003.
Preliminary number of tornadoes during the April 25-28 outbreak:
305.(The previous largest outbreak was the "Super Outbreak" of April 3-4, 1974, when more than 148 tornadoes were confirmed and 330 people were killed.)
Number of EF-5 storms, the highest on the tornado damage scale, from the April 2011 outbreak:
3. (There were 7 EF-5s in the '74 Super Outbreak.)
Death toll from April 25-28 outbreak:
At least 309 people. (The deadliest tornado outbreak on record is the Tri-State Tornado of March 18, 1925, which killed 695 people in Missouri, Illinois and Indiana.)