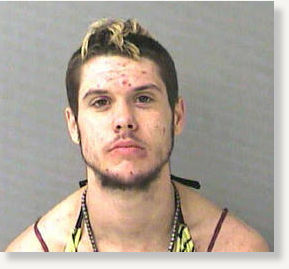 Police say an Alum Creek man high on bath salts killed his neighbor's pygmy goat and that neighbors found him in his bedroom, dressed in a bra and panties, next to the dead animal, said Lt. Bryan Stover of the Kanawha County Sheriff's Department.
Mark Thompson, 19, of Greenview Road, is charged with animal cruelty after police got a call from a woman who said he stole her goat at about 3:15 a.m. Monday, Stover said.
Lisa Powers said she bought the goat on Friday as a gift to her 4-year-old grandson. They named the male goat Bailey after a female character on the Disney Channel television show
The Suite Life on Deck
.
"The baby just loved him," she said.
Powers' nephew, Joshua Pollis, got a call from a neighbor early Monday morning, she said.
"They told him that my goat was wandering around in Mark's house and he'd better come and get it," she said. "They called my nephew because he'd been there before."
Pollis and two women walked into Thompson's house looking for the goat, according to the criminal complaint filed in Kanawha County Magistrate Court.
The three entered the house and made their way to Thompson's bedroom door when Thompson spoke to them, Powers said.
"He told them, 'Don't come in, I'm naked,'" Powers said. "But they opened the door and he was standing there with his pants down. He had on women's clothing and the goat was dead and there was blood everywhere. It was just a scene."
Thompson ran out the front door when Pollis asked him about the dead goat in his room, according to the complaint.
Police got a search warrant for the house, and searched the woods for Thompson. They found him several hours later.
Thompson allegedly told police he was on bath salts for about three days
.
When police entered the house they found fresh blood near the front door of the bedroom and in Thompson's bedroom to the right of the front door. Inside the bedroom police found the small gray and white goat wearing a pink collar lying dead on the floor, blood coming from its neck, according to the complaint. There was a pornographic magazine photo laying a few feet from the goat, the complaint states.
"We know the animal had at least one stab wound," said Cpl. Sean Snuffer, a detective with the Sheriff's Department. "They are also searching for signs of sexual trauma."
Police took the dead animal to a veterinarian for a necropsy, he said.
Police are continuing their investigation. Thompson was arraigned Monday afternoon and taken into custody by Adult Protective Services.
Snuffer said the people in the community where Thompson lives told police they have been concerned about his mental health.
"I don't think they are very happy, the community over there," he said. "From what I understand they have been fearful of him before."
Powers said she and her family have lived next to Thompson for about three years. She said she took him to church with her family more than a year ago.
"Then he stole the communion wine and went out the downstairs door," she said. "I never took him back. ... We tried to be friends with him until we saw how he was."
Powers said she asked him not to come back to her house.
"He'd come anyway," she said. "He's just been a menace since I've been here. ...
"He runs through the woods, screaming and cursing and hitting things. What scared me was I didn't want him to hurt one of my grandchildren."
She said police have been diligent in their investigation.
"They tried to find fingerprints on the chain the goat was tied to," she said.