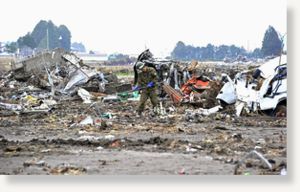 Santiago - Chilean officials found traces of radioactivity in tests on around 20 used cars on a ship from South Korea that had been in the vicinity of Japan's damaged Fukushima atomic plant, a report said Monday.
The report in the daily
El Mercurio
quoted Iquique customs director Raul Barria as saying the radioactivity did not appear to pose a danger.
He said the vehicles were showing a level of one to five on a radioactive index, below the level of nine needed for an alert.
The ship sailed from South Korea and then docked at the Japanese ports of Osaka and Yokohama, located 500 kilometers (300 miles) from the reactor in Fukushima, which saw several explosions after the earthquake and tsunami that struck Japan on March 11.
Nonetheless, workers at the Chilean port some 1,800 kilometers (1,100 miles) north of Santiago were concerned and asked for testing, said Moises Chavez, a spokesman for the stevedores.
The 83 workers who had contact with the vehicles "were tested by customs at their request," Barria said, adding that none of them showed any ill effects.
The cars were part of a shipment of 2,500 vehicles arriving in Chile. Officials said the cars were all to be cleaned by the shipping company before sale in the South American nation.