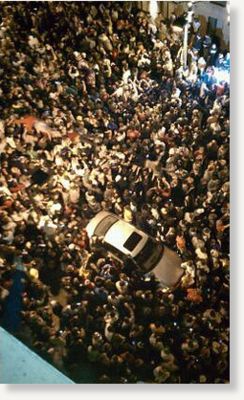 The 61-year-old mother of a bond trader killed during the attacks at the World Trade Center said she feared she would go to her grave before Osama bin Laden did.
"Justice really has been served," said Judith Reiss of Yardley. "There's a special place waiting in hell for this man."
Reiss said she and her husband, Gary, whose 23-year-old son, Joshua, died on 9/11, feared that the mission to kill bin Laden had fallen off the front burner.
"We're joyous," said Gary Reiss.
They were not alone, as rejoicing resonated from the ballpark to college campuses to watering holes.
"You know I'm not a hater, but I'm glad this bastard's dead," said Patrick White whose cousin, Louis Nacke II of New Hope was on board Flight 93 when it crashed in a field in Shanksville during the 9-11 attacks.
He added: "It is not so much a night of celebration, but somber reflection and gratitude for commitment of so many people. All the wounds opened again but with this evil washed out, it'll heal much cleaner."
Gordon Felt, president of the Families of Flight 93 issued a statement on behalf of the relatives of the 40 passengers and crew who died.
"This is important news for us and for the world. It cannot ease our pain or bring back our loved ones, but it does bring a measure of comfort that the mastermind of the Sept. 11 tragedy and the face of global terror can no longer spread his evil."
When fans at Citizens Bank Park learned about bin Laden's death, they began chanting "U.S.A" late in the game between the Phillies and New York Mets.
It appeared that more fans began chanting as they learned the news through Twitter and word of mouth.
In Port Richmond, fireworks went off shortly after 11 p.m. when the news broke.
Susan Madrak, a resident of Bridesburg, looked out her kitchen window six blocks away to see the display, noting it appeared the event took place near Castor Avenue.
At National Mechanics, a bar on South 3rd Street, free "Obama Bombs" were served to the crowd. The drink was described as "Liberty, Justice, a half-pint of Boddingtons, a half-shot of Tuaca and a half-shot of Van Gogh double expresso vodka. By 12:30 a.m. Monday, some 50 free "bombs' had been served.
Jonathan Toto, 20, of Ridley Park, a sophomore at Pennsylvania State University's main campus, said a jubilant mood erupted a little before 11 p.m. when tweets starting appeared about the demise of bin Laden.
Toto, a special education major, said students starting congregating and chanting "U.S.A." and singing songs lyrics such as "nah, nah, nah... goodbye."
Dominic Trombino, a junior at Rowan University, said hundreds of students marched down Route 322 through the center of campus in Glassboro, chanting "U.S.A." The student-run television station RTN Channel 5 broadcast celebrations on the campus.
"It's a madhouse - but in a good way..everyone's come together," Trombino said.
At the University of Pennsylvania campus students gathered at Mark's Cafe cheering and waving American flags, accordimg to the campus blog Under The Button.
"There's finals and then there's history," according to the blog.
While citizens were celebrating, Philadelphia Police Commissioner Charles Ramsay directed all districts "to pay special attention to all mosques and synagogues with hourly checks," said Lt. Raymond J. Evers, a police spokesman.
Evers said the heightened alert, which was precautionary, will last until further notice.
Despite the late hours, many local politicians issued statements.
Jersey Congressman Robert Andrews noted: "We must now redouble our efforts to protect our country against retaliatory acts of terror. We must send an unmistakable signal to those who would join bin Laden's cause that they will certainly join him in his well-deserved fate."
Rep. Chaka Fattah (D., Pa.), ranking member of the House Appropriations Committee's Subcommittee on Commerce, Justice, Science and related agencies, released a statement that said: "Justice has been served . . . Our thanks to the brave men and women who serve in our military and security forces who put their lives on the line in the successful pursuit of the mastermind of the 9/11 terror attacks."
Congressman Bob Brady, (D., Phila.) said: "We all remember our horror September 11, 2001 as we watched thousands of Americans civilians being murdered in an attack on our nation. Now we will remember May 1, 2011 when we heard the news that the mastermind of that murderous attack is dead."
U.S. Senator Bob Casey (D., Pa.), said he hoped the news would bring closure to the families who lost loved ones.
"While today's development does not mean an end to terrorism or the need to remain relentlessly vigilant, the death of bin Laden has enormous significance in American and world history."