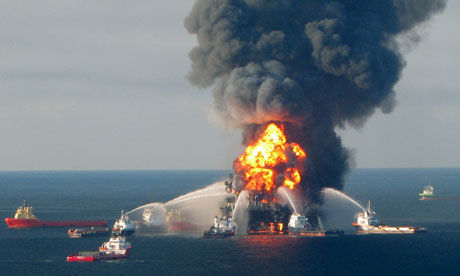 BP has predicted it will be back drilling in the Gulf of Mexico within a matter of months despite continuing legal threats and rows over pollution from last year's Deepwater Horizon disaster. "We expect to be back and actively drilling during the second half of the year," Byron Grote, the company's chief financial officer, told financial analysts from the City of London on Wednesday.
The comments are likely to infuriate environmentalists who believe BP should be kept away from the Gulf and could upset a US offshore regulator still considering whether to grant permits to BP.
Verbal gaffes by former chief executive Tony Hayward in the wake of the Macondo well accident 12 months ago sent the company's reputation in America into freefall as it attracted widespread criticism from the White House downwards.
Grote was speaking as BP revealed it had taken a further $400m of extra charges relating to Macondo in its first quarter financial results which helped dent profits.
The company has not drilled any wells in the US Gulf since a moratorium was introduced last summer but formally lifted again in October. Some rival firms have already been granted permission to drill new deepwater wells but not BP.
A spokesman for the British company said it had applied to resume drilling production wells to keep up output levels at key fields such as Thunderhorse and Atlantis. "This is clearly subject to the regulator's permission being granted," he added.
Hopes that drilling could begin soon come barely a month after the US Justice Department confirmed it was still considering a range of civil and criminal charges against BP. It also comes amid continuing arguments over how much oil or dispersant chemicals used in the aftermath of Macondo continue to damage the waters of the Gulf.
The financial figures for the first three months of the year were boosted by much higher oil prices but were also damaged by chancellor George Osborne taking a billion dollar bite out of profits. Changes announced in the March budget on North Sea oil fields cost BP $683m (£414m) in extra taxes over the first quarter of the year while a further $400m is expected to go in 2012 owing to fiscal treatment covering the decommissioning of platforms.
The higher tax charge in the first three months helped replacement cost profits dip to $5.5bn from $5.6bn during the same period a year ago but the figures were also hampered by an 11% slump in production volumes and higher operating costs.
These special items outweighed a substantial increase in oil prices year on year and a very strong performance from its Russian business, TNK-BP, where BP is in conflict with its oligarch partners over a proposed tie-up with another local group, Rosneft.
The tax hit from Osborne has infuriated a wider North Sea oil and gas industry which claims hundreds of jobs stand to be lost. There has been a series of meetings between company executives and government officials but so far Osborne has shown little sign of backing down.
Osborne presented the move last month as a "fair fuel stabiliser" which would raise the tax rate on oil producers to avoid having to increase the tariff on pump petrol which has reached record levels.
The chancellor said the change would raise £2bn of extra taxes but BP's figure of $683m is the first from a company and BP is still one of the largest in the North Sea. The BP tax rate went up from 30% to 37% over the first quarter as a result of the move, said a company spokesman.
The oil group has gradually been running down its UK interests and is talking to potential buyers about various gas fields it wants to sell along with the Wytch Farm onshore field in Dorset.
BP has disposed of $24bn worth of assets worldwide as part of a cash-raising move to help pay for the $41bn cost of Deepwater.