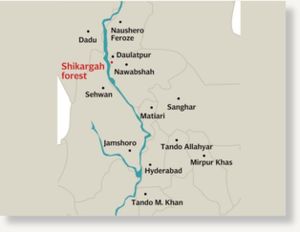 The media and officials played hide-and-seek on Wednesday over reports of a helicopter crashing in Nawabshah - or Sehwan - at around 2 pm. The mysterious helicopter allegedly crashed in a jungle and initially, officials had said that the agencies confirmed that it belonged to the government and six people were on board.
When the news spread, however, every relevant authority started zipping up about it.
The Inter-Services Public Relations denied the crash, saying that if it were an army helicopter, it would have known. The Civil Aviation Authority said it had no idea about the mysterious chopper and had only heard of it through the media. "We checked through our systems and found nothing," CAA spokesman Pervez George told The Express Tribune. Meanwhile, a CAA Nawabshah official quipped, "We do not know anything about the helicopter because it was not ours. We only heard it from the media, so it must be yours." Along with him, the Nawabshah DCO also denied any crash happened.
Then reports of a helicopter crashing in Sehwan - across the river Indus from Nawabshah - started flooding in. Sehwan revenue DDO Syed Ataullah Shah said he "had heard" the crash take place in Sehwan, however, the DSP refuted the claims.
Express 24/7 reporter Sabin Agha said the police and law enforcers said both sides of the river, Sehwan and Nawabshah, had been searched but no wreckage or any other signs had been found.
Yellow Helicopter Seen?
Former Sehwan UC nazim Mumtaz Rind saw a yellow helicopter crossing over at Sehwan City between 12 noon and 1 pm. "I saw a chopper which was flying very low. It looked like it was about to land because of its wheels," he told The Express Tribune. "It was going towards Daulatpur, which is a complicated area in terms of jurisdiction as the area comes under Nawabshah, Jamshoro and Dadu districts."
The helicopter crashed in the Shikargah forest, a hari working on the forest land told Rind. The jungle is said to be a dangerous area, infamous for abductions. The hari, meanwhile, was told about it by a 'witness' who saw smoke coming out of the chopper.
But again, none of this could be confirmed because even though Rind saw a helicopter, he does not know if that was the very helicopter that crashed. "No one is going there or is being allowed in because the jungle is so dangerous." The area is cordoned off.
Rind did see police movement, however. "The Karampur village police was seen rushing towards Daulatpur on motorcycles. I guess they were on motorcycles because that is a kachcha area and you cannot go there with heavy vehicles."
Yellow helicopters are mostly medical ones or search and rescue service helicopters but they are not local. Government helicopters are usually white, while army ones are camouflage-coloured.