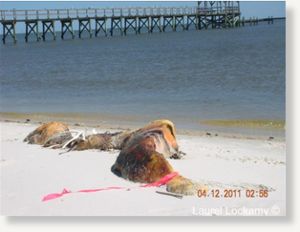 Laurel Lockamy was upset that a dolphin had been lying dead in the sand near Pass Christian, MS, for more than five days. It had been painted orange after being counted by the
Institute for Marine Mammal Studies
and tagged as counted. But it still was not moved and was decomposing in the sand.
So Laurel decided to take matters into her own hands and posted a note and a few photos of the dolphin onto the local WLOX-TV website:
Dead Dolphin on Pass Christian Beach.
this is the dead dolphin that is still out there 5 days after the marine institute for mammals came and spray painted and tagged it in orange..it stinks..it is rotting and it is so wrong that this beautiful creature is rotting on the beach after 5 days..go look its still out there on the beach in Pass Christian where people are still swimming in this bad water..Someone Please Help This Dolphin!!
The next day, Laurel went out to check on the dolphin and it was gone. Beach cleanup authorities had finally come and taken it away.
Dolphins and endangered sea turtles continue to die in high numbers along the Gulf coast, particularly in Mississippi, which is still being impacted by weathered oil and tar balls on its beaches. According to NOAA Fisheries, there have been more than
175 sea turtle strandings
in Alabama, Mississippi and Louisiana through April 11 of this year. Meanwhile, from the Florida panhandle to the Texas Louisiana border, over
150 bottlenose dolphins
have been found dead.
NOAA has declared an emergency investigation called an
Unusual Mortality Event
for dolphins since a high number of them have been newborn calves. Last week,
the agency confirmed
that at least eight dolphins have been found with oil on them matching the BP Macondo well, including one dolphin found as recently as March.
The agency also is investigating the spike in sea turtle deaths, and many of them have come this month. In Mississippi, there have been 67 turtle deaths through April 11. And they just seem to keep coming.
Shirley Tillman went out yesterday with a BBC television crew and found five dead turtles lying on the sand, some decomposed and several she recognized from many days ago. Shirley says she's now found 18 turtles this month alone.
"It like I go out every day and find at least one turtle. They just paint them and leave them there, exploding in the sun with maggots coming out of them. How would you like to have your kids swimming next to these?"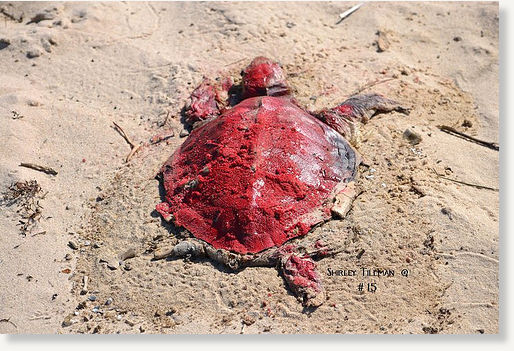 Shirley and other residents still are upset with the lack of attention that the turtle deaths have received in the local press. The
national press has reported
on it briefly, but this week a
New York Times story
of the health of the Gulf didn't even mention the turtle death spike. Meanwhile, Shirley and others believe the response from official agencies has been slow and lacking urgency.
"They should be out here getting turtles while they're fresh and testing them, not just letting them rot in the sun. I've seen plenty of turtles that just washed in but no one came for days. The Coast Guard dropped the ball with the BP cleanup and now NOAA is dropping the ball with investigating the turtles."
As the turtles and dolphins keep dying, the anniversary of the BP well explosion and death of 11 men approaches. The science is only in its beginning stages of understanding the impact of the country's largest oil spill.
Media will once again swarm the Gulf coast, looking for stories about the cleanup and the oil's impact on people and sea life in the Gulf. They will be looking for new angles to a story many abandoned when the well was plugged last July.
Shirley and Laurel hope the press finally discovers the turtle tragedy happening on their coast. It's taken a while, but they say their phones are starting to ring.