Will remain tiny compared to inventory of obsolete crap
The UK expects to double its fleet of "Reaper" robot hunter-killer aircraft, according to the machines' manufacturer.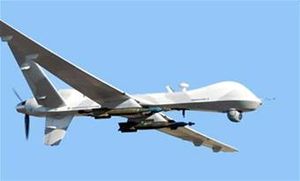 General Atomics, which developed the famous Predator drone warplane and its bigger successor the Predator-B/Reaper, announced last week that it is opening a new office in London to support the British Reaper fleet. The company says that it has thus far supplied six of the robot aircraft to the UK forces - though one of these crashed and was
destroyed in Afghanistan
three years ago.
The company announcement adds that the UK Reaper fleet is "expected to nearly double in size over the next few years". Presumably this might indicate that the Ministry of Defence (MoD) expects to field as many as ten roboplanes in the near future.
The Reaper, designated
MQ-9
in US air force service, is a large and capable aircraft with turboprop propulsion and a mighty 66-foot wingspan enabling it to reach altitudes of 50,000 feet (too high for all but the heaviest anti-aircraft missiles). It has electro-optical spyeye gear and ground-sweeping radar able to pick out moving targets as small as vehicles (or even people) across large areas.
The Reaper spends much of its time acting as an aerial surveillance/intelligence platform, but is officially designated as a "hunter/killer system". It can carry as many as 14 Hellfire tankbuster missiles (these are also used extensively to hit lesser targets such as cars, trucks or houses - they are considered a fairly surgical option as air weapons go). Alternatively the MQ-9 can drop heavier laser and satellite-guided smartbombs. It normally flies with a load of two bombs and four Hellfires.
Reapers are the most powerful unmanned combat aircraft available at present, and for most purposes are better than manned strike jets such as the RAF's Tornado. The Tornado can offer spyeye capability using the RAPTOR recce pod, but lacks the Reaper's ground-sweeping radar: the Tornado can carry only 12 Hellfires compared to the Reaper's 14. The Reaper can also fly further and stay up longer without refuelling than a Tornado.
Air force pilots worldwide tend to argue that Reapers and their like can only operate in safe airspace where there is no enemy air force to worry about, but in fact it seems pretty clear that the robocraft could easily replace Tornados above Libya now that sea-launched cruise missiles have suppressed Gadaffi's heavy air defences.
Buying a new Reaper costs just £10m, according to the MoD, so even if a few get shot down this isn't a big deal - the more so as the flight crew remain safely at the ground control station far away (in Nevada alongside US Reaper crews). Replacing a manned strike plane is enormously more costly: no more Tornados will ever be built, but the type is to be superseded as the RAF's favoured bomber by Eurofighter Typhoons converted from their pure air-to-air role.
The UK will
eventually have a fleet of 107
bomber-capable Eurofighters, each of which will have cost us £215m. We will also buy 54 Watchkeeper drone aircraft
which will
cost £16.5m each at the latest estimates. These will be unarmed and limited to altitudes of 16,000 feet or less - in other words they would easily be shot down by ordinary short-ranged AA missiles.
Against this background the news that we might soon have as many as 10 superior Reapers is not as cheerful as it might seem.