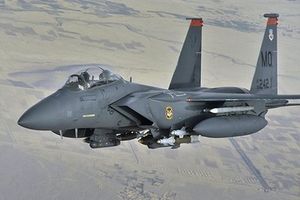 Berlin - A U.S. fighter jet crashed in Libya after an apparent equipment malfunction but both crewmembers were able to eject and were back in American hands with only minor injuries, U.S. officials said Tuesday.
The F-15E Strike Eagle jet was conducting a mission Monday night against Libyan leader Moammar Gadhafi's air defenses when it crashed at 2130 GMT (5:30 p.m. EDT), said Lt. Cmdr. Karin Burzynski, a spokeswoman for the U.S. Africa Command.
A spokesman for the Libyan opposition, Mohammed Ali, said the U.S. plane went down about 25 miles (40 kilometers) outside of the eastern rebel stronghold of Benghazi, Libya's second-largest city.
Britain's
Telegraph
newspaper published a series of photographs it said was the wreckage of the plane, showing people milling around the burned-out aircraft in a Libyan field.
One of the jet's airmen landed in a field of sheep after ejecting from the plane, then raised his hands and called out "OK, OK" to a crowd who had gathered, the Telegraph cited witness Younis Amruni, 27, as saying.
"I hugged him and said: 'Don't be scared, we are your friends,'" Amruni told the newspaper, adding that people then lined up to shake the airman's hand.
"We are so grateful to these men who are protecting the skies," he said. "We gave him juice and then the revolutionary military people took him away."
A Marine Corps Osprey search and rescue aircraft retrieved the main pilot, while the second crew member, a weapon systems officer who is also a pilot, was recovered by rebel forces and is now in American hands, a U.S. official said in Washington. He spoke on condition of anonymity because he was not authorized to speak on the record.
Amruni said the Osprey fired shots to keep locals away, then swooped in and rescued the second crew member.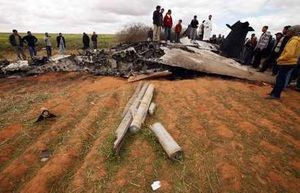 The two were separated after ejecting from the crippled jet at high altitude and drifting down to different locations, Africa Command spokesman Vince Crawley said, adding they sustained minor injuries.
The aircraft, based out of Royal Air Force Lakenheath, England, was flying out of Italy's Aviano Air Base in support of Operation Odyssey Dawn. The cause of the crash is being investigated.
The Air Force has said only that B-2, F-15 and F-16 fighters are participating in operations over Libya. The U.S. involvement in Libya is being run by Africa Command, which is based in Stuttgart, Germany.
The air campaign by U.S. and European militaries that began Saturday has rearranged the map in Libya and rescued rebels from what had appeared to be imminent defeat.
On Monday night, Libyan state TV said a new round of strikes had begun in the capital, Tripoli, marking the third night of bombardment.
But while the airstrikes can stop Gadhafi's troops from attacking rebel cities - in line with the U.N. mandate to protect civilians - the United States, at least, has appeared deeply reluctant to go beyond that toward actively helping the rebel cause to oust the Libyan leader.
Pauline Jelinek in Washington, Cassandra Vinograd in London and Maggie Michael in Cairo contributed to this report.