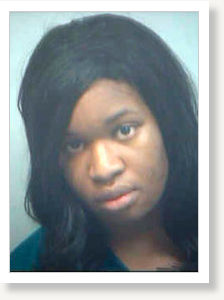 A woman who fled to Nigeria after a fire killed four children at her day care center in Houston was flown back to the United States on Monday, the authorities said.
Investigators say that the woman, Jessica Tata, 22, left Houston two days after fire officials determined that the Feb. 24 blaze at Jackie's Child Care had most likely been sparked by a pot on a stove that the authorities believe Ms. Tata left unattended while she went shopping.
Three other children were injured in the fire.
Ms. Tata, who faces 14 charges, including four manslaughter counts, surrendered to Interpol agents in the Nigerian city of Port Harcourt on Saturday, the authorities said. Ms. Tata, an American citizen, has relatives in Port Harcourt, they said.
"You cannot thumb your nose at the justice system, whether it be domestically or abroad," Elizabeth Saenz, the United States marshal for the Southern District of Texas, said in a statement Monday. "Justice will be served. Jessica Tata has learned this, thanks to the global efforts of the many and unknown."
The children who died at Ms. Tata's in-home day care center were Elias Castillo, 16 months; Elizabeth Kajoh, 19 months; Kendyll Stradford, 20 months; and Shomari Leon Dickerson, age 3.
Before leaving for Nigeria, Ms. Tata told fire investigators that the blaze had started after she put a pot of oil on the stove and then went to the bathroom. She told the authorities that when she returned she was unable to see because of the dense smoke in the house.
But a receipt and a surveillance recording from a nearby Target store appear to show that Ms. Tata had been shopping at the time, Chief Terry Garrison of the Houston Fire Department said.
After Ms. Tata flew from Dallas to Atlanta and then to Nigeria on Feb. 26, the United States Marshals Service placed her on the list of its 15 most-wanted fugitives.