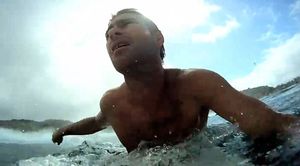 A surfer has died after being dragged under by a wave he was riding off the northern California coast.
Fearless Sion Milosky, 35, died on Wednesday evening, apparently drowning in the wipeout at the famed Mavericks surf break, south of San Francisco.
Friends said the wave 'caught him like an avalanche' and he never came up leaving the close-knit surfing community stunned.
Big wave surfing great Peter Mel told Reuters in an interview from Mavericks:
'He didn't really make a mistake, he just took off on a wave, it caught him like an avalanche and he was down and just never really came up.'
Mr Milosky's wife, friends and fellow surfers had gathered on the beach for an impromptu memorial.
Mr Mel said Hawaiian-born Mr Milosky, who had recently joined the ranks of elite big-wave surfers in part because of his fearlessness, had been surfing Mavericks since Monday and 'was completely dominating, like a true veteran' before the accident.
'We're all really, really good friends so yeah, it hits to the core,' Mr Mel said. 'We've lost a family member and it feels that way.'
After Mr Milosky was pulled from the water he was treated by paramedics at the scene and arrived at Seaton Coastside medical centre in nearby Moss Beach in full cardiac arrest, a spokeswoman for the hospital said.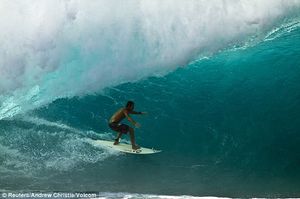 'The EMT people tried to revive him for 45 minutes before they brought him into our facility. Our team tried to resuscitate for 15 minutes and were unable to revive him,' Seacoast spokesman Beth Volz said.
The San Mateo County Coroner's office said an autopsy would be conducted in coming days to determine the official cause of death for Mr Milosky, who is survived by his wife and two daughters.
Mavericks, named for a dog who joined early surfers in the water, is a celebrated but hazardous surf spot just north of Half Moon Bay famed for waves topping out at over 80 feet.
Professional surfer Mark Foo was killed at Mavericks during huge swells on December 23, 1994.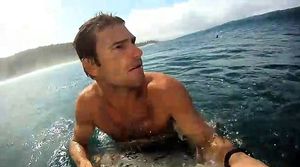 'It's with a very heavy heart that we bid farewell to Hawaiian family man and big wave surfer Sion Milosky,' his sponsor, Volcom, said in a statement on its website. 'Words cannot begin to describe how saddened we are by this loss.'
Jack Morrissey, Volcom surf team manager, said the company was setting up foundation for Mr Milosky's daughters, with information posted on the company's website, Volcom.com.
In a statement the company said: 'Sion's first passion was his wife and kids and surfing giant waves was his second.
'Never before had we seen such an amazing surge of coverage from any surfer in a period of less than two years.'