Food prices in Britain are rising at three times the rate of the world's seven biggest economies.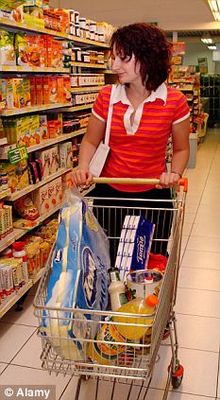 Figures from the OECD put UK food inflation at 6.3 per cent, well ahead of the average of 2.1 per cent for the G7 group of nations.
The cost of putting meals on the table is also rising much faster than most of Europe.
The average annual rise in Ireland is only 0.3 per cent, while it is running at 0.1 per cent in France, 0.8 per cent in the Netherlands and 2.1 per cent in Belgium.
The figures will anger British shoppers amid mounting suspicion that UK supermarkets are turning the screw on consumers to boost profits.
The OECD said only Turkey, Estonia, Hungary and Korea had a higher rate of food price inflation among the 34 countries it surveyed.
There is a suggestion that the 'big four' supermarkets - Tesco, Sainsbury's, Asda and Morrisons - have used concerns about increasing global commodity prices to push through unfair increases.
Research by analysts at UBS shows commodity inflation would justify a 3 to 3.5 per cent rise in processed food prices, but UK supermarkets have lifted prices by 6 to 6.5 per cent.
Economists Paul Donovan and Larry Hatheway, who co-wrote the report, said: 'Prices are rising in excess of justifiable cost increases.
'The UK stands out as having the broadest range of food price increases.'
The big supermarkets and their trade body, the British Retail Consortium (BRC), insist they are protecting shoppers against the worst effects of commodity price rises.
However, that is at odds with figures showing record profits over the past two years, raising millions of pounds to build hundreds of new outlets.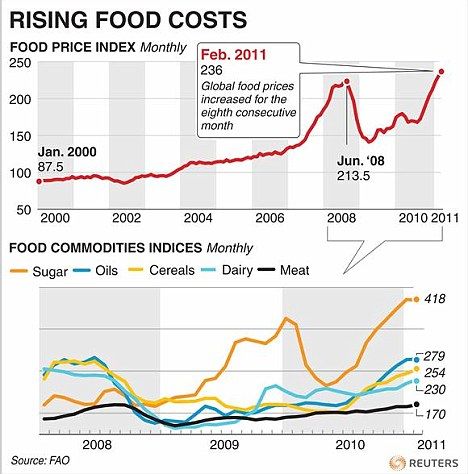 Industry research suggests that many promotions being offered by the big supermarkets are not what they seem.
Virtually every price cut is matched by increases on other products.
A report published by the BRC today claims high street food price inflation was 4.5 per cent in February, down marginally from 4.6 per cent in January.
BRC director general Stephen Robertson said: 'Food inflation appears to have stabilised for now despite on-going pressure from soaring global commodity costs.
'The small fall compared with January shows retailers are doing everything they can to keep price rises to a minimum.
'This is demonstrated by the record proportion of groceries on promotion or discount, currently 39 per cent.'
The BRC puts shop price inflation for all goods at 2.7 per cent in February, up from 2.5 per cent in January.
Mr Robertson added: 'January's VAT rise is starting to have an impact on non-food prices, pushing up overall inflation compared with the previous month.
'Even so, non-food inflation would be much higher if the full impact of the VAT rise had been passed on to customers.
'In fact, strong competition for business is still producing price falls in some areas, such as electricals and clothing.
'Increased fuel costs and rising energy bills are eating into household budgets.
'The good news is tough retail competition is keeping shop price inflation well below the wider Consumer Price Index.'