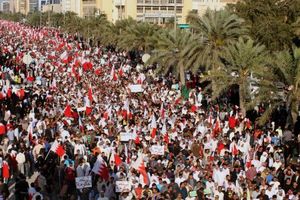 Thousands of demonstrators form an enormous 'human chain' around the capital Manama as protests continue against the rule of the monarchy.
Protesters joined hands to encircle the capital as the nation enters its third week of protests,
The Daily Express
reported.
No police presence was reported during the peaceful demonstration. Organizers reported that some of the Sunnis, which constitute a minority in Bahrain, joined Saturday's event.
Protesters have accused the government of discriminatory policies and political persecution.
Friday saw an estimated 100,000 demonstrators in the capital's financial district following the Friday Prayers. Protesters then marched towards Pearl Square, the epicenter of the movement demanding the government to step down.
It was the largest demonstration since protests erupted in the kingdom almost three weeks ago.
Several thousands of demonstrators also rallied outside Bahrain's state television building, in Madinat Isa, on Friday. They accused the television of promoting sectarian violence.
On Thursday, forces loyal to the monarchy clashed with protesters, leaving at least a dozen people injured.
In a move to mitigate the unrest, Bahrain's King Hamad bin Isa al-Khalifa has offered a series of concessions including releasing political prisoners, reshuffling the cabinet and reducing the monthly housing costs of citizens by 25 percent.
Opposition groups continue to demand major reforms and the establishment of a "real constitutional monarchy," as well as the resignation of the government which they hold responsible for the killing of peaceful demonstrators.
The Sunni al-Khalifa dynasty has ruled the Persian Gulf island nation for almost two centuries.