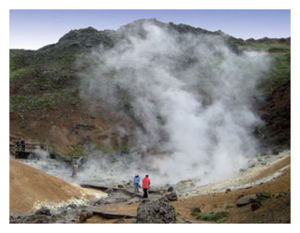 An earthquake measuring 3.7 in magnitude on the Richter scale hit one kilometer northeast of
Krýsuvík
on Reykjanes peninsula in southwest Iceland yesterday and the tremor could clearly be felt in the capital region.
The earthquake, which hit at a depth of 3.8 kilometers, was smaller than those measured in the area last weekend. There was constant seismic activity around Krýsuvík yesterday but no other quakes were stronger than three points on the Richter scale,
Morgunbladid
reports.
According to the Icelandic Meteorological Office, there is no reason to conclude that this is anything else than a conventional series of earthquakes while the tremors are all at the same depth - so far, all quakes hit at a depth of three to five kilometers.
The stability in the depth of the epicenters indicates that no other activity will follow the earthquakes. However, if they were to move closer to the surface, earth scientists will pay closer attention to them.
It is assumed that seismic activity of a similar magnitude will continue in the area.
Click
here
to read more about the tremors in southwest Iceland and other seismic activity.