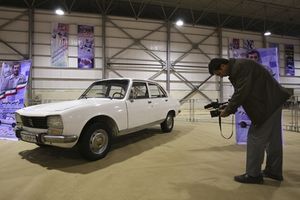 Tehran, Iran - Iran's president said Wednesday he is certain the wave of unrest in the Middle East will spread to Europe and North America, bringing an end to governments he accused of oppressing and humiliating people.
Mahmoud Ahmadinejad, whose own country resorted to violence to disperse an opposition rally earlier this month, also condemned Libya's use of force against demonstrators, calling it "grotesque."
Iran's hard-line leaders have sought to claim some credit for the uprisings in Arab nations, saying they are evidence that its 1979 Islamic Revolution, which ousted the U.S.-backed shah, is being replayed.
The embattled movement calling for social and political reforms in Iran has labeled that view hypocritical - and to prove it the opposition tried to stage its own rallies in solidarity with the anti-government protests in Egypt last week. Clashes between security forces and demonstrators left at least two people dead and dozens injured.
"The world is on the verge of big developments. Changes will be forthcoming and will engulf the whole world from Asia to Africa and from Europe to North America," Ahmadinejad told a news conference Wednesday.
The tone of the remarks seemed to draw on the belief by Shiite Muslims that a revered ninth century saint known as the Hidden Imam, will reappear before judgment day to end tyranny and promote justice in the world.
Ahmadinejad said the world was in need of a just system of rule that "puts an end to oppression, occupation and humiliation of people."
"It's a wave that's coming," he said.
Even while denying his own opponents the right to demonstrate, the president urged Libya's Moammar Gadhafi to heed his peoples' demands. He sharply criticized Libya's leaders for their use of force.
"This is very grotesque. It is unimaginable that there is someone who kills and bombards his own people. I strongly advise them to let nations have their say and meet their nations' demands if they claim to be the officials of those nations," Ahmadinejad said.
"Of course anyone who does not heed the demands of his own nation will have a clear fate," he added.
Iranian police and paramilitary groups brutally put down protests on their own streets after Ahmadinejad's disputed re-election in 2009. The opposition claims the vote was rigged and hundreds of thousands of protesters poured into the streets, posing the most serious challenge to Iran's ruling system since the 1979 revolution.
The opposition says more than 80 demonstrators were killed in the crackdown. The government puts the number of confirmed deaths at 30.
The opposition has compared the uprisings in Egypt, Tunisia, Libya and elsewhere to its own campaign for change.
Mir Hossein Mousavi, who claims to have been the real victor in the 2009 vote, said last month that Iran's protest movement was the starting point and that all popular protests in the Middle East aimed at ending the "oppression of the rulers."
Mousavi and Iran's other senior opposition leader, Mahdi Karroubi, have been under house arrest since earlier this month after they called their supporters to attend the Feb. 14 rally.
Security forces also raided Karroubi's house, locking him and his wife in separate rooms and confiscating books and documents, according to Karroubi's website.