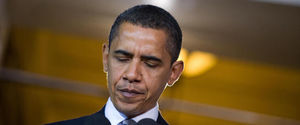 Washington - Less than two months after
signing tax cuts
for the wealthiest Americans into law, President Barack Obama proposed a spending plan to Congress that cuts funding to programs that
assist
the working poor,
help
the needy heat their homes, and
expand access
to graduate-level education, undermining the kind of community-based organizations that helped Obama launch his political career in Chicago.
Obama's new budget puts forward a plan to achieve $1.1 trillion in deficit reductions over the next decade, according to an administration official who spoke to the Associated Press on condition of anonymity in advance of the formal release of the budget.
Those reductions -- averaging just over $100 billion each year -- are achieved mainly by squeezing social programs.
A deal
struck to extend the Bush tax cuts for just two years, meanwhile,
increased the deficit by $858 billion dollars
. More than $500 billion of that bargain constituted tax cuts, with billions more funding business tax breaks and a reduction in the estate tax. Roughly $56 billion went to
reauthorize
emergency unemployment benefits.
The president's budget was expected to mostly target "non-defense discretionary spending," which makes up less than one-quarter of the overall budget, making balancing the budget with such cuts mathematically impossible.
Indeed, the driver of the deficit is tax cuts.
The Wall Street Journal
is
reporting
that as a result of the tax cut deal, the projected deficit in Obama's budget will reach a "record" level of $1.6 trillion this year, though that figure, relative to the size of the American economy, is far lower than many other governments around the world, according to
data compiled
by the Central Intelligence Agency. And the relative deficit is well below the
levels of the 1940s
, a time of economic prosperity. "President Barack Obama's 2012 budget proposal projects this year's deficit will reach $1.6 trillion, the largest on record, as December's tax-cut deal begins to reduce federal revenues, a senior Democrat said Sunday," the
Journal
reported Sunday evening
. (The deficit is only a record if it is neither adjusted for inflation nor considered relative to the size of GDP.)
A closer look at surveys
suggests
that when people say they are concerned about the deficit, they are actually worried about the economy.
The president's official budget proposal was released Monday morning and we'll be adding updates with breaking news and reactions throughout the day.