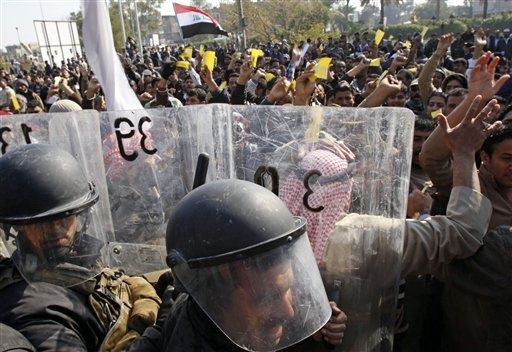 Iraqi security forces stopped demonstrators from entering the heavily fortified Green Zone in Baghdad, sources said.
Waves of political unrest are sweeping across the Arab world in the wake of the revolution in Tunisia and the ongoing demonstrations in Egypt, which were largely peaceful Friday.
Protesters in Baghdad told the Voices of Iraq news agency that they wanted more jobs, improved social services and a less corrupt government. Many Iraqis are without jobs and electricity more than seven years after the U.S.-led invasion.
There were several protests reported by the news agency in Basra, the holy cities of Najaf and Karbala and the restive northern city of Kirkuk. Army helicopters were reported hovering over the Green Zone, the heavily fortified administrative center.
"Security forces prevented scores of protesters from entering the Green Zone, while a number of lawmakers are preparing to go for the angry men to negotiate and listen to their demands," a source told the news agency.
Protesters said they were planning a massive sit-in in front of the administrative center and many were reportedly using social networking sites to spread the word.
One protester told Voices of Iraq a so-called million-man march was discussed for Feb. 25 if the government didn't respond to their demands.