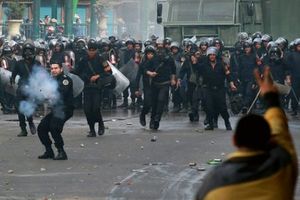 Reports say Israel has sent crowd dispersal weapons to the Egyptian regime to curb massive protests against President Hosni Mubarak's 30 years of authoritarian rule.
The International Network for Rights and Development said that
three Israeli planes landed at Cairo's Mina International Airport on Saturday, carrying equipment for use in dispersing and suppressing large crowds
, a Press TV correspondent reported.
According to the report, Egyptian security forces received the cargo on three Israeli planes, which were allegedly carrying a
large supply of internationally proscribed gas to disperse crowds
.
Egyptians have taken to the streets across the country for eight days running, demanding that Mubarak step down.
The uprising has prompted Mubarak to appoint his first-ever vice president and a new prime minister in a desperate attempt to retain power.
But his response has, so far, failed to appease angry demonstrators, who have vowed to remain on the streets until Mubarak's resignation.
The unprecedented protests have sparked concerns over a possible energy crisis in Israel given the prospects of a new, Islamic government in Egypt, which supplies some 40 percent of Israel's natural gas.
Israeli Prime Minister Benjamin Netanyahu addressed his cabinet ministers in a public statement on Sunday, highlighting the significance of Tel Aviv's ties with Cairo and that Israel is "following the events unfolding in Egypt and the region with vigilance."
"I remind you that peace between the Israeli establishment and Egypt has endured for over three decades... we currently strive to guarantee the continuity of these relations," he noted.
Meanwhile, Israel has allowed Egypt to deploy its troops to the Sinai Peninsula despite a bilateral agreement, under which Egypt has been only allowed to station police forces in the region.
Tel Aviv said the move was to help Cairo prevent a revolution in Egypt, where people have been protesting Mubarak's regime for eight consecutive days despite warnings and the precautionary deployment of the army.
A report by the United Nations says at least 300 people have so far been killed and thousands more injured during the protests.