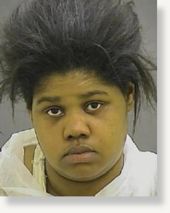 Baltimore -- A Baltimore judge decided not to imprison a 29-year-old mother who killed her infant and buried him in a park.
Lakesha Haynie -- originally charged with first-degree murder in the death of 1-month-old Rajahnthon Haynie -- pleaded guilty to involuntary manslaughter Wednesday. Circuit Judge Charles J. Peters gave her a 10-year suspended prison term and five years of probation.
Haynie is forbidden to have unsupervised contact with children age 6 and younger, and must report to a local social services department if she becomes pregnant again, Peters said. She must also attend a Planned Parenthood counseling program Monday.
If she violates any probation terms, "this court will not hesitate to put you in jail" for the rest of her suspended sentence.
Rajahnthon was found buried in a bag in a city park in March.
His skull was fractured and he showed signs of asphyxia, an autopsy indicated.
The Baltimore Sun
reported prosecutor Julie Drake told Peters Haynie explained to the boy's father she had put her hand over Rajahnthon's mouth "to keep him from crying and that he had stopped breathing."
Drake said Haynie -- whose four other children were removed from her custody before Rajahnthon's birth -- showed "gross and wanton negligence
," even refusing to deliver him in a hospital for fear authorities might remove him too.