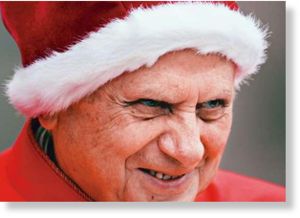 A letter written by a Vatican official in 1997, marked "strictly confidential," warned Irish bishops to avoid reporting the sexual abuse of children in the church, in hopes of avoiding public fallout from the scandals that were sure to ensue.
Victims' groups the world over were calling the letter -- first obtained by Irish broadcaster RTE - the "smoking gun" which proves institutional complicity in untold thousands of reported sexual abuses.
The church has long maintained that it did not and would never instruct its bishops to engage in a cover-up of such heinous crimes: a claim that appeared to be false.
"And if that instruction applied here, it applied everywhere," Colm O'Gorman, with the Irish chapter of Amnesty International, told the Associated Press.
The AP also noted that the Vatican has refused to acknowledge policies passed by Irish churches that command bishops to report any instances of suspected or confirmed sexual abuse.
Ireland has conducted two state-sponsored investigations of sexual abuse within the Catholic church. A third was underway at time of this writing.
In the wake of prior revelations about the widespread sexual abuse of children in the Catholic church,
some have called for the prosecution of Pope Benedict XVI
for allegedly helping shelter pedophiles.
Their calls were bolstered by the revelation that while still a Catholic cardinal, the current pope, Joseph Ratzinger, told an American bishop to
wait before defrocking a priest
accused of sexually molesting two boys.
The Vatican has maintained that the pope cannot be prosecuted due to sovereign immunity afforded to heads of state.
A Supreme Court decision in 2010
overruled Vatican arguments
that even its priests were immune to prosecution, clearing the way for officially protected pedophiles to stand trial in the United States. Others have suggested the Vatican could be pursued through the International Criminal Court (ICC) under the doctrine of "universal jurisdiction."
Given the gravity of the latest information, it seemed calls for the prosecutions of Catholic officials were only likely to grow.
Read the AP's full report
here
.